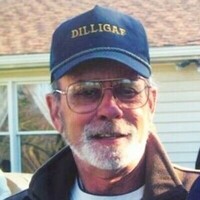 Richard Eugene Hassler was born in Washington, DC, to Francis E. Hassler and his wife, Elizabeth (Lancaster), on June 20, 1943.  He grew up in Anacostia with his older brother, John, where they were active in DeMolay, the high school rifle team, and in various other youth organizations.
Shortly after high school, Rick began his career in the telecom industry with C&P Telephone Company.  He married his first wife, Judy, in 1964.  In 1966 they were blessed with a son, Kevin, and in 1968, a daughter, Susan.  They settled in Charles County, MD, and lived a normal suburban life of work, friends, dogs, bowling, cars, shooting, boats, and family.
As "Ma Bell" grew, changed, merged, and morphed, Rick rolled with the experiences and served as a CWA representative, advocating for union workers. As a "telephone man," he worked all over Capital Hill, in the Supreme Court, and at the Library of Congress, rubbing elbows on the daily with senators, congressmen, politicians, and janitors alike. And not one was treated any differently, regardless of their status.
He married his second wife, Barbara (Bobbie), in 1981 and they resided in Rockville, and later Owings, MD.  During the next phase of his career in telecom, he supported the White House telecommunication systems for both the Reagan and Bush White House administrations.  Although well behind the scenes, he did his part to serve and protect our country, here and abroad.
He was very active with Almas Temple Shrine and was one of the three founding members of the Mini-Motors exhibition unit.  This hilarious, precision team put on many entertaining shows at various parades and events over the years, and he would count those gentlemen and their wives as some of his closest, treasured friends.
Upon his retirement, he spent a great deal of downtime fishing the Outer Banks.  He thoroughly enjoyed surf and charter fishing with his OBX fishing buddies, and he lived for those week-long adventures with his friends.
He took immense pride in his work with the Mason's and Shriner's Children's Hospital.  Countless times he transported many children and their families to and from the hospital in Philadelphia for their appointments, and his philanthropic work with this organization, deeply rooted in the Hassler family, gave him a sense of purpose during those retirement years.
Rick passed quickly and peacefully, with our much-loved friend and nurse, Shirley Brooks, by his side.  He is survived by his brother John (Wanda), his loving wife Bobbie, his children Kevin (Jamie) and Susan, grandchildren Kori, Kendyl (Andrew), Joe (Kristi), Jeff, Kyle, and Drew, and one great-grandchild, Evelyn (Eevee), as well as his much-loved nieces and nephews.
The family will receive friends for Rick's Life Celebration on Saturday, August 5, 2023, from 1:00 – 3:00 pm with a Memorial Service at 3:00 pm at Brinsfield Funeral Home & Crematory, 30195 Three Notch Road, Charlotte Hall, MD 20622.
In lieu of flowers, please donate to Shriners Children's Hospital or Hospice of St. Mary's County.
Condolences can be made to the family at www.brinsfieldfuneral.com.
Arrangements by Brinsfield Funeral Home & Crematory, P.A., Charlotte Hall, MD.