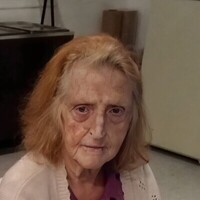 Nellie Lillie Quade, 88, of Brandywine, MD, passed away on August 1, 2023, surrounded by loved ones.
On January 13, 1935, Nellie was born to Ernest and Nettie Sherman in Maryland.
In January 1952, she met her future husband, Wilmer Quade and they were later married on March 28, 1953. They went on to have seven children, Wilmer Quade, Jr. (Joan) of Brandywine, MD, John Quade, Sr. (Pam) of Brandywine, MD, James Quade (Mary) of Spotsylvania, VA, Linda Kimble (Roger) of Mechanicsville, MD, Doris Swiderski of Mechanicsville, MD, Connie Paiz (Ray) of Brandywine, MD, and Donna Thompson (Mike) of Brandywine, MD.
When Nellie had her daughter, Linda, she decided to dedicate her life to being a fantastic and wonderful mother. Nellie excelled at propping up members of her family and supporting them through the many passions and difficulties of their lives. She made it her mission to improve the lives of others.
Nellie was a passionate cook and loved to bake for her family. She loved to garden, watch judge tv series, play checkers, and do puzzles. Most of all though she loved to spend time with her family. We will miss her greatly.
Nellie was predeceased by her loving husband, parents, son-in-law Roger, Ray, and her brother Alton Sherman brothers Jonis Sherman of Arkansas, Berton Sherman of Cobb Island, MD, Roy Sherman of Alabama, sisters Mary Farrall, Naomi Olson of Wason, MD, and Pearl Flemming of Lexington Park, MD. She is survived by her seven children, fifteen grandchildren, nineteen great-grandchildren, and three and a half great-great-grandchildren.
On Monday, August 21, 2023, the family will receive friends for the visitation from 10:00 am to 12:00 pm with the funeral service beginning at 12:00 pm at Brinsfield Funeral Home located at 30195 Three Notch Road in Charlotte Hall, Maryland 20622. Interment will follow after the service at 2:30 pm at Cheltenham Veterans Cemetery, 11301 Crain Hwy, Cheltenham, MD 20623.
In lieu of flowers, please consider a donation to a Parkinson's Disease Foundation alongside the Dementia Society of America.
Condolences can be made to the family at www.brinsfieldfuneral.com.
Arrangements by Brinsfield Funeral Home & Crematory, P.A., Charlotte Hall, MD.