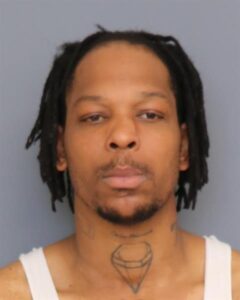 On July 28, 2023, at 12:19 p.m., officers responded to an apartment complex in the 2100 block of Crain Highway in Waldorf for the report of a male shooting a gun toward unknown persons.
Officers were already in the area and observed a male matching the suspect's description running away from the location; the male threw a firearm as he fled.
Officers apprehended the male and recovered a firearm, which was reported stolen in another county.
The male was identified as being the person who fired the gun; however, no victims were located.
Rodney Leroy Chase, 32, of La Plata, who is already prohibited from possessing a firearm due to a previous conviction, and was charged with illegal possession of a firearm, reckless endangerment, carrying a handgun on person, and other related charges.
Chase also had an active warrant for his arrest for an unrelated crime.
Anyone with information about this case is asked to call PFC Stine at 301-609-3282 ext. 0672. Tipsters who want to remain anonymous may contact Charles County Crime Solvers by calling 1-866-411-TIPS. Tips can also be submitted online at www.charlescountycrimesolvers.com or by using the P3Intel mobile app.
The investigation is ongoing.