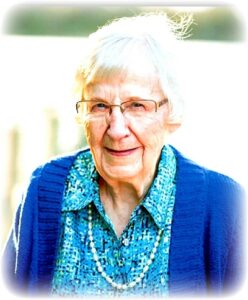 Agnes Yergovich Povlich, age 105, passed away peacefully in her home in Cambridge, MD on August 1, 2023, surrounded by her loving family. Agnes was born in Chicago, Illinois, December 25, 1917, to Michael Joseph and Theresa Krstic Yergovich. She was married to William Joseph Povlich for 54 years. She enjoyed baking (her Christmas cookies were much loved by her family and friends), crocheting, and taking care of her loved ones. Agnes was a member of the Beta Sigma Phi sorority, a world-wide civic organization. Upon William's retirement, they moved to Leonardtown, MD to be closer to their family.
Agnes is survived by her three daughters: Theresa Bracken (Bridgeport, WV), Eva Levy (Cambridge, MD), and Christine Perkins (Leonardtown, MD). She has 8 grandchildren: Emily Smith (Jeff), Reid Bracken (Rozanna), Catherine Levy, Mary Sue Bracken (Thomas Harwood), Coulter Bracken (Vicki), David Levy (Gena), Clay Perkins (Diane), Sam Perkins IV (Lisa); and 12 great-grandchildren: Hannah and Ellie Smith, Will and Luke Bracken, Jackson Reutter, Cole Bracken, Thomas and Madeline Levy, Alex Perkins, Kristina and Kristopher Zajur, and Annie Perkins. She also is survived by her loving pets, Teddie and Sophie.
Agnes is preceded in death by her husband, William Povlich, her parents, Michael and Theresa Yergovich, her sister, Lucille Crnkovich, her nieces, Theresa Tomich, Janie Snoddy, and sons-in-law, C. Bracken, Jr. and Samuel Perkins III.
Services are private. Her pallbearers will be David Levy, C. Bracken, Reid Bracken, Thomas Harwood, Jeff Smith, and Clay Perkins.
In lieu of flowers, donations may be sent to her favorite charities, St. Jude Childrens' Research Hospital, 501 St. Jude Place, Memphis, TN 38105, online at: https://www.stjude.org/donate or Autism Speaks, P.O. Box 37147, Boone, IA 50037-0147, online at: https://www.autismspeaks.org.
She will be loved by all she left behind. "We love you bushels!"
Condolences to the family may be made at www.brinsfieldfuneral.com.
Arrangements by the Brinsfield Funeral Home, P.A.