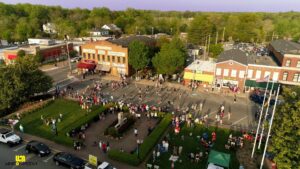 September marks the 10th Anniversary of Leonardtown receiving its designation as an Arts & Entertainment District. It holds the honor of being the only A&E District in Southern Maryland. The Town will mark this significant anniversary with a series of exciting events and happenings throughout the entire month of September.
The Town is kicking things off in a big way with the A&E First Friday All Weekend Celebration featuring art, music, performances and a thrilling fireworks finale!
The festivities begin with Art Walk 2023 on Friday, September 1st. Make your way to local participating businesses around Town (many businesses open at 11 a.m.) to view fabulous artwork by local artists and vote for your favorite throughout the day/evening, then why not make plans for dinner in Town at one of our fine restaurants before making your way to Leonardtown Square to enjoy live music provided by contemporary classic flutist, Dr. Ceylon Mitchell from 4 p.m. – 5 p.m., and improvisational jazz guitarist Jan Knutson from 5:30 p.m. – 7:30 p.m. Rounding out the evening will be an exciting aerial and fire dancing performance featuring the Vertical Dance Company in LTown Alley from 5:30 p.m. – 7:30 p.m.

Then on Saturday, September 2
nd
, the beautiful Leonardtown Wharf is the stunning location for a wonderful day of creativity and fun. The day begins with the 2
nd
Annual Sidewalk Art Contest where local established and budding artists are invited to use the sidewalks at the wharf as the backdrop for their works of art.
Register in advance for FREE online at: ­­­­ www.bit.ly/sidewalkartcontest or in person on the day of the event between 10 a.m. – 2:30 p.m. in one of four categories (Youth, Dabbler, Family or Pro) to participate for your chance to win over $1,500 in cash prizes and gifts (there are many chances to win including the grand prize cash gifts – $500 for 1st Place, $300 for 2nd place, and $200 for third place).
Participants will be able to work at their own pace but must complete their work by 3:30 p.m. to be included in the judging. Judging begins promptly at 3:30 p.m. and the winners will be announced at 5 p.m. during the evening's concert at the wharf (participants must be present to win).
Up next is the On the Water's Edge Music Series Season Finale at the Leonardtown Wharf. This exciting series, sponsored by Jimmy Hayden of RE-MAX 100 and Homes for Heroes, is part of the Leonardtown Summer Music Festival. T
he finale, taking place from 3 p.m. – 7:30 p.m. is a Labor Day weekend bash featuring local favorites – Phillip Michael Parsons, John Zimmerman and Girl Crush. In addition to amazing live music, attendees can enjoy wine from Port of Leonardtown Winery, beer from Leonardtown Volunteer Fire Department, tasty eats from Antoinette's Garden (a variety of cheesesteaks), Brudergarten (soft pretzels), Do Dah Deli (pre-made deli sandwiches), Leonardtown Volunteer Fire Department Auxiliary (hot dogs & hamburgers) and sweet treats from Noli's Italian Restaurant (cannoli) and Frog Town Ice Cream (of course, ice cream).
As noted, we will be naming the winners of the Sidewalk Art Contest from earlier in the day during the concert at 5 p.m. (right before Phillip Michael Parsons takes the stage).
Then what more thrilling way can there be to end the day than with a fabulous Fireworks Spectacular over Breton Bay (sponsored by the Leonardtown Business Association, Town of Leonardtown, Burch Oil & Burch Propane, Mattingly Gardiner Funeral Home, Sweetbay Restaurant & Bar, Frogtown Ice Cream, Shore United Bank and Fenwick Street Books)!
Bring a blanket or lawn chair and enjoy the concert and the thrilling fireworks finale by land, or pull up to the boat slips at the Wharf and take in the festivities from the deck of your boat with family and friends. Land lovers, why not park and ride the Leonardtown Trolley for free to the event (provided by Patuxent Transportation courtesy of the Town of Leonardtown)?
The regular trolley will be running its usual route from 2 p.m. – 10 p.m.  (see route and download the trolley map here: www.visitleonardtownmd.com/leonardtowntrolley).
A second trolley will act as a shuttle to transport attendees up and down the hill from the corner of Washington St. and Courthouse Dr. to the Wharf and back from 2 p.m. – 10 p.m.
Please note that Wharf Hill will be closed to vehicular traffic at the corner of Washington St. and Camalier Dr., and public parking will not be available at the Wharf during the event after 2 p.m. Residents who live beyond this point will be given parking passes for the day (affected businesses will also receive passes).
Beginning at 2 p.m., attendees are asked to park in the overflow parking at the Governmental Center and to walk or ride the FREE shuttle provided (this shuttle will drop off at the corner of Washington St. and Courthouse Dr. next to the Arts Council lawn across from the Courthouse). Please obey the parking and detour signs posted for your safety.
These amazing events presented here are just a highlight of some of the signature events that are taking place during the Leonardtown Arts & Entertainment Month Celebration. For more information about these and other exciting events taking place in September and to download the A&E Month Itinerary, visit: www.visitleonardtownmd.com/leonardtownae. Join us in Leonardtown for Arts & Entertainment Month and discover what makes Leonardtown a Most Exceptional Place. ###