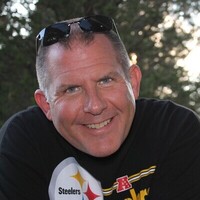 Scott  Allan Williams, 54, passed away peacefully on August 12, 2023.
He was born August 21, 1968, in Virginia to the late Donald and Nancy Williams.
Scott grew up in the Ft. Washington area, graduating from Friendly High School in 1986. Scott went on to obtain his degree in Criminal Justice. Scott began working in law enforcement as a Police Officer with the Federal Protective Service under the Department of Homeland Security.  Scott rose throughout the ranks, obtaining the rank of Commander upon his retirement in 2023 and retired after 32 years of service.
Throughout Scott's career, he was present and played pivotal roles in providing on-site police support to national events, including the Atlanta Olympics and subsequently the bombing that occurred there.  Scott traveled to Oklahoma City immediately after the bombing of the Alfred P. Murrah Federal Building to provide his assistance. Scott was present and rendered support to many Federal Courthouse cases throughout the country; some more notable ones included the Oklahoma City bomber trial in Denver and the Twin Towers garage bombing case in New York City. Scott contributed police support and worked hand in hand with FEMA for many natural disasters, including hurricanes Andrew, Katrina, Rita, and Ivan. He provided support to the unrest in Ferguson and in Washington, DC.
Scott did not worry about himself but turned his attention to helping others. Scott provided support to Presidential Inaugurations, from President Clinton to President Biden.  Scott was instrumental in designing and creating badges for the inaugurations, along with designing multiple agency "challenge coins" and retirement shadow boxes for the agency. He had an exemplary career. His love of history resonated with people he met.  You could find Scott with a good cigar and a fine bourbon whenever he wanted to simply relax.
Scott is survived by his loving wife, Marilyn Williams; his daughter, Samantha Williams, and his son, Justin Williams of Waldorf, MD. His biggest joy was definitely his children.
The family will receive friends for visitation on Monday, August 21, 2023, from 5-7 pm with a prayer service at 7 pm, followed by a funeral service on Tuesday, August 22, 2023, at 11 am at Brinsfield Funeral Home & Crematory, 30195 Three Notch Road, Charlotte Hall, MD 20622. Interment will follow at Trinity Memorial Gardens, 3221 Mattawoman-Beantown Road, Waldorf, MD 20601.
Condolences may be made to the family at www.brinsfieldfuneral.com
Arrangements by Brinsfield Funeral Home, Charlotte Hall, MD