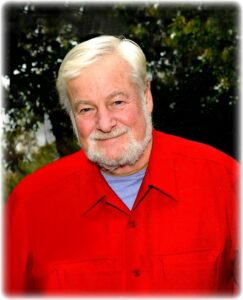 "Bob" Robert Stevens Currie peacefully passed away on August 13, 2023, near his home in Hollywood, MD. Born on July 24, 1940, to Ruth and Robert "Lang" Currie in Redwood City, California, he attended Sequoia High School before pursuing higher education at Menlo College and UC Berkeley, where he earned a master's degree.
Bob was passionate about service and people. His work in the Peace Corps took him to the Philippines during the 1960s, where he served as both a volunteer and a staff member. He and his family relocated to Washington, DC, in the 1970s to work at the Peace Corps headquarters. There, he served in their Evaluation Unit and later became the Executive Director of ACTION. He also contributed his services to the Environmental Protection Agency.
Bob was a skilled builder, tinkerer, and creator of things from scratch. He had a fondness for working on cars and boats, even constructing a water-landing plane for fun. An ardent fisherman and boating enthusiast, Bob enjoyed sharing these activities with both loved ones and new acquaintances. He maintained a strong connection with his inner child and often encouraged the curiosity of children around him, motivating them to build, tinker, and create their own things.
Bob is survived by his wife, Betty Currie. Bob experienced many adventures throughout his life, and his time with Betty was one of his most cherished experiences. He is also survived by his children (from his first marriage with Caroline), Robert Currie and Mailea Tinsley, along with seven grandchildren and many other cherished loved ones.
Services to celebrate Bob's life will take place on Wednesday, August 23, 2023. Visitation will begin at 10:00 am (EDT), followed by a service at 11:00 am (EDT) at Brinsfield Funeral Home, located at 22955 Hollywood Rd, Leonardtown, MD 20650. For those unable to attend in person, the service will be livestreamed by Brinsfield Funeral Home, although potential connectivity issues may affect reception.
To honor Bob's memory, memorial donations are suggested to the following causes:
● National Peace Corps Association: https://www.peacecorpsconnect.org/cpages/home
● Historic Sotterley in Hollywood, MD: https://sotterley.org/ (navigate to "support")
● ASPCA: https://secure.aspca.org/donate/memorial or a local animal shelter
Condolence cards can be sent to Betty Currie and the family at:
Betty Currie
24740 Marva Point Way
Hollywood, MD 20630-4844
Arrangements by the Brinsfield Funeral Home, P.A.