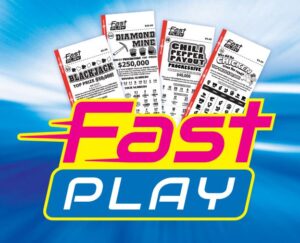 Big Money Doubler ticket delivers progressive jackpot in St. Mary's County
A longtime Maryland Lottery player said he couldn't believe his own eyes when he saw he won a $117,175 progressive jackpot in the FAST PLAY Big Money Doubler game.
The 83-year-old retired electrician enjoys playing a variety of Lottery games, but his favorites are Keno and FAST PLAY.
He landed his biggest Lottery prize when he stopped to fill his gas tank on Aug. 15 at a Wawa store in Charlotte Hall. A $5 Big Money Doubler ticket he bought that day delivered one of the game's progressive jackpots, which was at $117,175.

"I couldn't believe it. I had to look at it again and showed it to my wife and son to confirm, and we all celebrated," the said the lucky winner, who chose to remain anonymous and go by the alias, "Johnny Carson."
When asked what he will do with his winnings, he laughed and said his wife made a list of items for the couple to buy. And "Johnny Carson" added that he plans to keep playing Maryland Lottery game, hoping for another big win.
The St. Mary's County retailer is a winner as well. Wawa #588, located at 30320 Three Notch Road in Charlotte Hall, receives a $1,000 bonus from the Lottery for selling a FAST PLAY ticket paying a prize of $100,000 or more.
The $5 Big Money Doubler game ticket has a progressive jackpot that begins at $40,000 and increases with the purchase of each ticket until someone buys a jackpot-winning ticket. This is the game's third progressive jackpot winner since it went on sale in January 2023. There are still 12 progressive jackpot prizes that remain, along with 17 prizes of $5,000; 65 prizes of $1,000 and thousands of additional prizes ranging from $10 to $500.