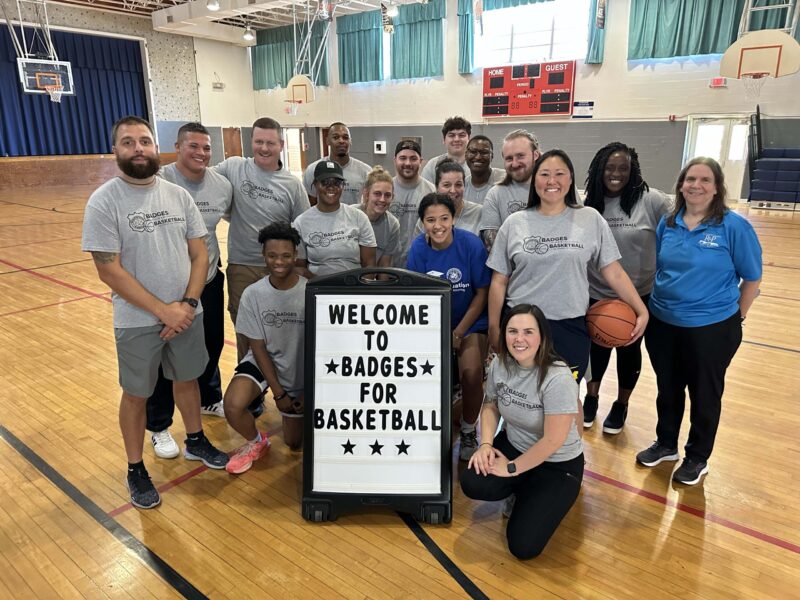 State's Attorney Jaymi Sterling's partnership with the Cal Ripken, Sr. Foundation brought together youth and law enforcement partners for the first-ever Badges for Basketball clinic this past Saturday at the Carver Recreation Center in Lexington Park. Badges clinics and camps occur worldwide, but 2023 marks the debut of a St. Mary's County event.
Thanks to a generous grant from the Cal Ripken, Sr. Foundation, every youth received a t-shirt, a mini basketball, and a backpack stuffed with goodies. Yolanda Berry, the grandmother of two of the participants, described her grandsons' experiences: "…they could not stop talking about how much fun they had and the friends they made along the way."
Youth from around St. Mary's County spent the morning having fun and honing their basketball skills while also learning about Healthy Choices – Healthy Lifestyles alongside State's Attorney's Office staff, Deputies from the St. Mary's County Sheriff's Office, Troopers from the Maryland State Police Leonardtown Barrack and staff from the Department of Recreation and Parks.
"With the tremendous success of our inaugural event, we hope to plan additional Badges events in St. Mary's County, and I look forward to additional youth in our community sharing in the experience," said State's Attorney Jaymi Sterling.