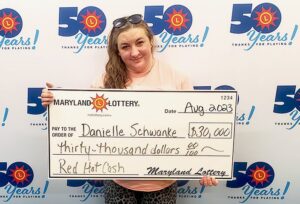 A 34-year-old Anne Arundel County woman was very excited when she claimed a $30,000 top prize she won playing the Red Hot Cash scratch-off game. This big win will aid her passion of helping animals.
Danielle Schwanke, a medical assistant and pet foster parent, was racing against the clock last week when she rushed into a Giant store in Severna Park to pick up some medicine. The store was set to close in seven minutes and as she passed the Lottery Vending machine, she stopped quickly and picked up $20 worth of scratch-offs including a few Red Hot Cash tickets.
Danielle gave a few scratch-offs to her boyfriend to play, but waited to play hers later that night while watching television. Her boyfriend had no winners, but Danielle scratched her way to a $30,000 win.
"I know I went ghost white," said the lucky player. "I thought, this has to be a mistake".

Still in shock, the stepmother of two kids began to check the ticket over an over to be sure of the win and woke her boyfriend to do the same.
"Even though it was right in our faces, we were convinced it could not be a winner," said Danielle.
The big winner couldn't sleep and as soon as stores opened, she went to scan the ticket again at a local Lottery Retailer. It was confirmed. She was holding a $30,000 winner.
"I was so nervous," said Danielle. "I have a reputation of being clumsy, so I made sure I didn't do anything crazy with the ticket."
The bubbly animal lover, who has eight cats, one dog and currently fosters five pets told Lottery Officials when she claimed the prize that she plans to donate a portion to an area animal shelter.
Danielle also plans to spoil the kids a little and will save the rest.
Sharing in Danielle's good luck is the store where she bought the winning instant ticket. The Giant #358, located at 575 Governor Ritchie Highway in Severna Park, receives a $300 bonus from the Lottery. The bonus is equal to 1% of the prize and given for selling a $30,000 top-prize winning scratch-off.
The Red Hot Cash instant ticket went on sale in May of this year with eight $30,000 top prizes. There are four remaining. There are also eleven prizes of $1,000 remaining and many more that range from $3 to $5,000