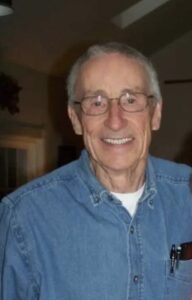 Richard Austin Fogg, 93, of Chesapeake Beach, Maryland, passed away on August 28, 2023. He lived in 'The Willows' for 50 years, where he and his wife built their home in 1973.
Richard (Dick) was born on July 3, 1930, to Austin Fogg and Ellen (Sceggal) Fogg in Wolfeboro, New Hampshire.
He entered the United States Air Force at age 17 and honorably served his country for 20 years. While stationed in England, he met the love of his life, Joyce, and they later married in December 1951. They had three children: Catherine Ann, Sharon Patricia, and Verity Leigh.
He was a determined but easy-going and patient man who loved his family. He pursued his college degree while serving in the Air Force at The College of William & Mary. He completed his Environmental Studies degree after military service at George Washington University while working for the Federal Government as a Management Analyst.
Dick was employed at the ARC of Southern MD (and was named employee of the year in 1986), managed the local food pantry, served at his church, and was passionate about his yard and serving in his community, helping others.
Dick was predeceased by his wife, Joyce, his stepbrother Wilbur, his stepsister, Marguerite, his sister, Carolyn, and his parents. He is survived by his brother, Paul, and his children, Catherine (Wayne) Ramsey, Sharon (Richard) Gibson, Verity Fogg; his grandchildren, Melissa, Colin, Matthew, Christian, Robert, Ryan; and seven great-grandchildren.
In lieu of flowers, the family requests that contributions be made to the American Heart Association or Emmanuel Church and notes of remembrance be sent to Rausch Funeral Home, 8325 Mt Harmony Ln., Owings, MD 20736. His funeral service will be held on September 7, 2023. Visitation is scheduled from 10:00 a.m. to 11:00 a.m., and his service will start at 11:00 a.m.
His favorite Bible verses include:
Teach us to realize the brevity of life, so that we may grow in wisdom. (Psalm 90:12)
The faithful love of the Lord never ends! His mercies never cease. Great is His faithfulness; His mercies begin afresh each morning. (Lamentations 3:22-23)
Thursday, September 7, 2023
Rausch Funeral Home-Owings
8325 Mt. Harmony Lane
Owings, MD 20736
Services
Thursday, September 7, 2023
11:00 AM
Rausch Funeral Home-Owings
8325 Mt. Harmony Lane
Owings, MD 20736
Interment
4000 Huntingtown Road
Huntingtown, MD 20639
Contributions
Emmanuel Church
PO Box 99
3800 Old Town Road
Huntingtown, MD 20639