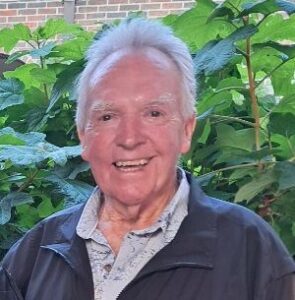 Harold Wayne Denton, 81, of Prince Frederick, Maryland passed away on September 2, 2023 in Prince Frederick, Maryland. Harold was born on October 25, 1941 in Prince Frederick to the late Roland and Anna Mae Elliott Denton
A graduate of Calvert High School, he spent his professional career working in and on automobiles – first at Chevy Chase Chevrolet in Bethesda, followed by years with brothers Kenneth & Robert Lee Humphreys, before ultimately opening his own business – Harold's Body Shop in 1972. Often exchanging his services for a bushel of turnips or crabs, he repaired or painted nearly every vehicle in Calvert County. After 49 years serving the community he loved so much, he retired in 2021.
Harold was an Army veteran, serving as a specialist fourth class in the Korean War, as well as an expert marksman. He was a mechanic in the ordinance division and spent 2 weeks stationed along the DMZ between North and South Korean during the war.
When he wasn't repairing and painting vehicles, his passion was motorsports. From NASCAR to the local circuit, he and his son Kevin spent weekends tearing up the track. In his early years, he could often be found drag racing in Aquasco.
Avid Redskins (Commanders) and Orioles fan, he also enjoyed fishing. He was considered the "Mayor of Barstow" by many of his friends.
Harold is survived by his wife of 59 years, Bonnie Denton, father of Gwyn Novak and her husband Donald and Kevin Denton and his wife Carole. Grandfather of Sam and Julia Denton, Nikki, Stephanie, Hoyt and Daniel Novak. Harold is also survived by his sister, Marlyn Denton Sutton and her husband Carl.
Tuesday, September 5, 2023
Trinity United Methodist Church
90 Church Street
Prince Frederick, MD 20678
Services
Wednesday, September 6, 2023
11 AM
Trinity United Methodist Church
90 Church Street
Prince Frederick, MD 20678
Interment
Wednesday, September 6, 2023
Central Methodist Cemetery
3175 Hallowing Point Road
Prince Frederick, MD 20678
Contributions
Calvert Health Medical Center Foundation
P.O. Box 2127
Prince Frederick, MD 20678