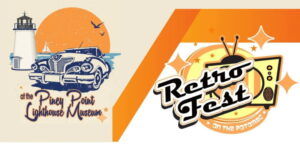 St. Mary's County Government's Museum Division, in partnership with the Friends of St. Clement's Island & Piney Point Museums, is excited to announce the 4th Annual RetroFest on the Potomac.
RetroFest will be held on Saturday, September 16, 2023, from 10 a.m. to 4 p.m. at Piney Point Lighthouse Museum & Historic Park.
RetroFest on the Potomac is a free family event that represents all things vintage! Enjoy live music from Kiti Gartner & the Drifting Valentines; Rocking House Party from Vince Turner; a variety of vintage displays, exhibits and vendors; fun retro family activities and crafts; a food truck, beer truck, ice cream, and much more!
Admission is free for this event, but Museum donations are always welcome. Free parking will be available at Piney Point Elementary School with free shuttle service bringing visitors to and from RetroFest.
There will be no public parking at the museum during the event, except for vehicles displaying appropriate handicap parking permits.
For more information about this event, please call Piney Point Lighthouse Museum at (301) 994-1471 or visit Facebook.com/1836Light.
Attention vendors and classic/vintage vehicle owners! If your business or non-profit is related to the vintage/retro theme, offers vintage-related items or activities, or if you have a vintage car, truck, motorcycle, boat, or other vehicle, please contact [email protected] for more information and to sign up.
About the St. Mary's County Museum Division – The St. Mary's County Museum Division was established by the Commissioners of St. Mary's County to collect, preserve, research, and interpret the historic sites and artifacts which illustrate the natural and cultural histories of St. Mary's County and the Potomac River. These sites include St. Clement's Island Museum, Piney Point Lighthouse Museum, the Old Jail Museum, and the Drayden African American Schoolhouse. With this as its charter, the Museum Division serves as a resource, liaison, and community advocate for all St. Mary's County public and private cultural assets. For more information, please visit: museums.stmarysmd.com.