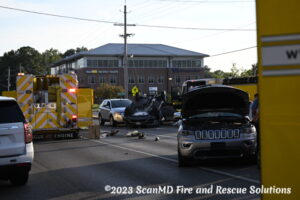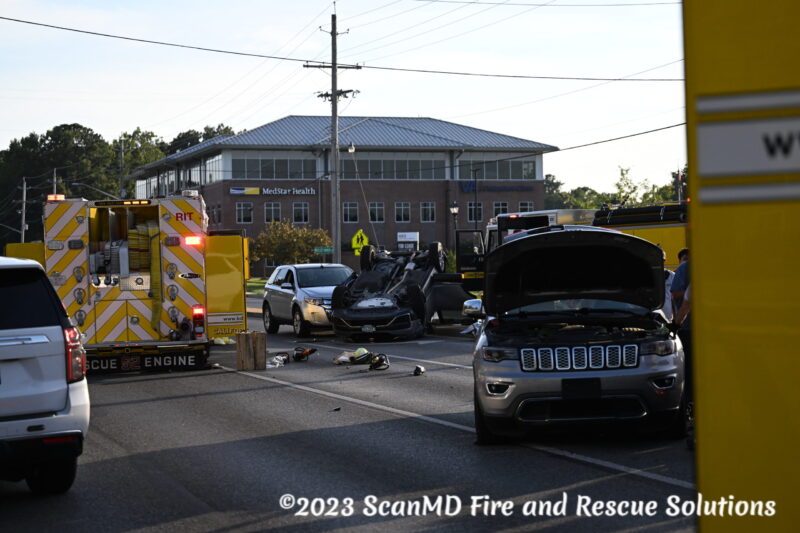 On Tuesday, September 6, 2023, at approximately 5:50 p.m., a St. Mary's County Emergency Services Employee witnessed a motor vehicle collision at Chancellors Run Road and Great Mills Road and requested a serious motor vehicle collision assignment due to one vehicle overturned with entrapment.
Police, fire and rescue personnel were alerted to and Bay District Volunteer Fire Department responded with Rescue Engine 92, Engine 91, Engine 31, Squad 3, Chief 3, Chief 3A, Chief 3B, and Chief 9B.
Crews located four vehicles involved with one vehicle overtured with one trapped, with a second patient trapped in a separate vehicle.
Firefighters extricated the single occupant of the overturned Honda SUV, and the operator of the Jeep in under 15 minutes.
Emergency medical personnel evaluated at least 7 patients on the scene and transported two to an area hospital with injuries described as minor.
Police responded and are investigating the collision.
Multiple witnesses reported the silver Honda CR-V was travelling Westbound on Great Mills Road and had a green light, the black Honda CR-V reportedly failed to yield and travelled from Chancellors Run Road onto Great Mills Road, into the path of the silver Honda CR-V which caused a chain reaction crash.