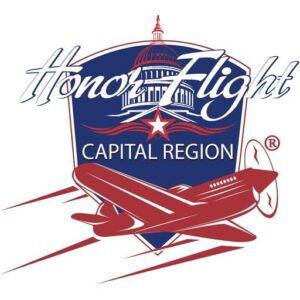 Join us tomorrow! Tuesday, October 3, 2023, at 7:30 p.m., in Dunkirk District Park to extend a warm and heartfelt welcome to 24 distinguished Senior War Heroes, ranging from the ages of 73 to 106, as they return from their Capital Region Honor Flight.
Operation "Welcome Home" is our collective effort to honor these courageous warriors, and we're proud to have county officials, local law enforcement, fire-rescue-EMS workers and YOU as part of this special occasion.
Together, we'll express our deep gratitude for their selfless sacrifices during World War II, the Korean War and the Vietnam War.

The Honor Flight Network is excited to introduce Capital Region Honor Flight as the most recent hub to join the nonprofit organization's extensive Network. Capital Region Honor Flight will serve Veterans residing in Maryland, Delaware, and the broader Washington, D.C. metropolitan area.
This expansion aims to fill the void left by the discontinuation of Honor Flight Maryland's operations in the region. As with all Honor Flight trips, the experience is entirely free of cost to honored Veterans.
Under the dynamic leadership of Jenny Brawley, Capital Region Honor Flight is poised to make a profound impact, enlisting the support of dedicated local volunteers including Mark Brickell and Candi Johnson, among others. Capital Region Honor Flight is set to embark on its inaugural Honor Flight journey on October 3, 2023.
The trip will commence with 23 esteemed senior war Veterans departing from Huntingtown Volunteer Fire Department in Huntingtown, MD, in a memorable event made possible through the generous sponsorship of Mission BBQ. This trip reflects the community's shared commitment to honoring those who have selflessly served our nation. Capital Region Honor Flight trips for 2024 are already in the planning stages.
Meredith Rosenbeck, CEO of Honor Flight Network, noted the significance of this newly created hub. "We are thrilled to be able to serve the greater D.C. area again, now through Capital Region Honor Flight," Rosenbeck said. "While some Veterans in the region may have independently visited the memorials built to commemorate their service, participating in an Honor Flight trip with other Veterans brings an entirely new element to that experience. The shared camaraderie among Veterans on an Honor Flight trip – combined with the outpouring of gratitude from the community – truly takes this experience to the next level."
For Veterans residing in the area, Capital Region Honor Flight extends a heartfelt invitation to apply for one of these transformative trips. To gather more information about Capital Region Honor Flight, or to apply as a Veteran or Guardian for a Capital Region Honor Flight trip, please visit https://capitalregion.honorflight.org/ .
The public and media are invited to give the Veterans a warm welcome back for this inaugural Capital Region Honor Flight trip.

About Honor Flight:
 The Honor Flight Network, founded in 2005, is a national network comprised of independent Hubs across the U.S. Our mission is to show our nation's Veterans the appreciation and honor they deserve with a "trip of a lifetime."
Participation in an Honor Flight trip provides Veterans with the opportunity to share this momentous occasion with other comrades, remember friends and comrades lost, and share their stories and experiences with other Veterans. Since 2005, Honor Flight Network has transported over 275,000 Veterans to DC. All honored Veterans travel at no cost to the Veteran. More information is available at www.honorflight.org.