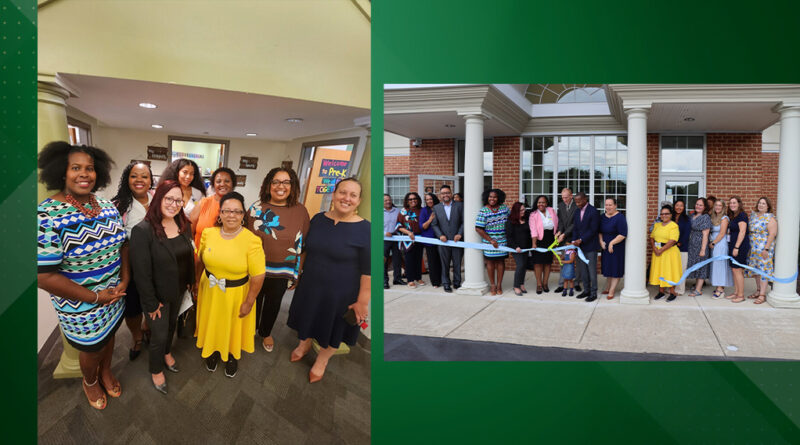 Charles County Public Schools (CCPS) officially opened its newest facility last week dedicated to expanding early childhood program access for young learners. In an Aug. 24 ribbon-cutting ceremony, CCPS staff was joined by elected officials, teachers, students and College of Southern Maryland (CSM) representatives to celebrate the opening of the new Early Learning Center, La Plata, located at the CSM La Plata Campus.
Superintendent of Schools Maria V. Navarro, Ed.D., said she is excited to officially welcome students to the center.

"One of our strategic plan focus areas is expanding prekindergarten access for more families," Navarro shared. "With the opening of this center, we were able to accept an additional 90 prekindergarten students to our program this school year. CCPS will continue to explore ways in which we can offer early education and support to our youngest learners," Navarro said.
The Early Learning Center, also known as ELC, features five prekindergarten classrooms that can serve between 80 to 100 students. The first day of school for all CCPS prekindergarten students is today, Tuesday, Sept. 5. Last fall, CCPS and CSM partnered to explore ways in which the college's vacant St. Charles Children's Learning Center space could be utilized for education.
The prekindergarten program at the center is the same as those held in CCPS elementary schools, with students completing the program and advancing to kindergarten at their zoned school. Students attending the center are zoned for the location through their home address. Some classrooms are inclusion classrooms with preschool-aged special needs students as well as typically developing peers. The CCPS prekindergarten curriculum will be followed and CCPS is providing bus transportation and meals for all students.
Through an agreement signed with CSM in 2022, CCPS is set to lease the Early Learning Center on the CSM La Plata campus for two consecutive years with an option for an additional lease after June 2026. The building will be used by CCPS for its prekindergarten program as part of the school system's expansion of early learning opportunities, as well as to fulfill the early childhood education requirement found in the Blueprint for Maryland's Future legislation.
One of the pillars of the Blueprint is the expansion of early childhood education program access. By expanding access to high-quality early education programs, CCPS is preparing students for school readiness.
"CSM is excited for Charles County Public Schools to be leasing this center to support launching this PreK programming," said CSM President Dr. Yolanda Wilson. "Access to early learning is so important. This Early Learning Center will help develop bright futures for our community's youngest learners by preparing them for kindergarten – socially and academically as well as emotionally and physically. And through the guidance of their Charles County Public Schools teachers, these children will begin to build a strong foundation for lifelong learning as they achieve early educational milestones."