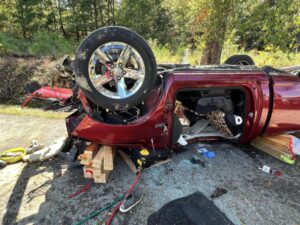 On Sunday, September 10, 2023, at approximately 2:50 p.m., police, fire and rescue personnel responded to the area of Hurry Road and Fancy Discovery Lane in Chaptico, for the motor vehicle collision reported serious with one overturned and multiple trapped.
Crews arrived on the scene to find a Dodge Pickup truck overturned with two patients trapped in the vehicle
Firefighters from Seventh District and Leonardtown VFD responded and extricated both victim in under 30 minutes.
Maryland State Police Helicopter Trooper 2 landed nearby and transported both victims to an area trauma center with serious injuries.
Police are investigating the collision and updates will be provided when they become available.
All photos are courtesy of the Seventh District VFD and Leonardtown VFD. Landing zone photos courtesy of Scandmd.org