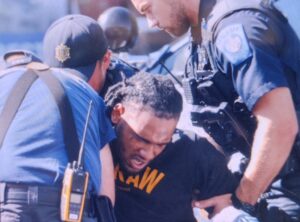 UPDATE 9/12/2023: On Tuesday, September 12 at 10:58 a.m., members of the Charles County Sheriff's Office Warrant Unit attempted to arrest Anthony Kavon Brown, 23, of Waldorf, who was at a business in St. Mary's County.
Brown was the subject of four active warrants charging him with violation of a protective order, failure to appear in court for second-degree assault, violation of probation from an armed robbery and assault, and violation of probation related to illegal possession of a firearm.
Brown, who has been wanted since June 2, was the subject of a press release seeking the public's help locating him, which was sent August 31. Brown resisted arrest and continued to struggle with officers until he was taken into custody.
Brown was transported to St. Mary's Hospital with minor injuries before being released into the custody of the St. Mary's County Sheriff's Office.
The two CCSO officers were transported to a hospital and treated for injuries sustained during the apprehension.
The Charles County Sheriff's Office is aware of a video circulating on social media related to the arrest of Brown and, in accordance with Agency policy, the CCSO will review the case, as is done in all instances where force is used.
Following court action in St. Mary's County, Brown will subsequently be returned to Charles County where he will be served the warrants.

On Tuesday, September 12, 2023, at approximately 10:30 a.m., police responded to the Pegg Road Shell located at 22141 Three Notch Road in Lexington Park, for multiple 911 calls reporting an active physical disturbance involving three males with two being armed with guns.
St. Mary's County police arrived on the scene and located two plain clothed Charles County Deputies attempting to place a subject into custody. Both officers were observed having badges around their neck and they announced themselves as Charles County Officers.
Multiple ambulances responded to the scene due to all three suffering injuries.
Both officers were transported to an area hospital with injuries. The suspect was also transported with injuries.
8/31/2023: Charles County Sheriff's investigators are seeking the whereabouts of Anthony Kavon Brown, 23, of Waldorf, who is wanted in connection with multiple open warrants.
Brown was indicted on charges of violating probation regarding illegal firearm possession; failing to appear in court on a second-degree assault; violating probation related to armed robbery and second-degree assault; and violating a protective order.
Brown is 5'9", 120 lbs., and frequents Indian Head, Newburg, and Waldorf. He also has ties to Prince George's County and Northern Virginia.
Anyone with information is asked to call PFC Rickard at 301-609-3282 ext. 0660. Tipsters who want to remain anonymous may contact Charles County Crime Solvers by calling 1-866-411-TIPS. Tips can also be submitted online at www.charlescountycrimesolvers.com or by using the P3Intel mobile app. A cash reward of up to $1,000 is being offered for the tip that leads to an arrest in the case.