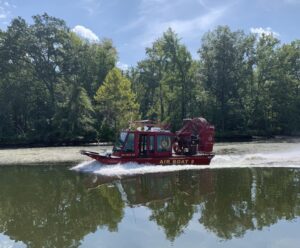 9/13/2023: We regret to announce that the body of Marvin Harris was recovered this morning a short time after 11 a.m.
The Charles County Sheriff's Office and Maryland Department of Natural Resources Police are handling the investigation.
Updates will be provided when they become available.
9/12/2023:On Tuesday, September 12, 2023, at 10:24 a.m., police, fire and rescue personnel responded to the Mattawoman Creek in Marbury, for the reports of a vessel taking on water with one subject in the water.
Crews arrived on the scene to receive reports of an 8-year-old boy fell into the water and his father jumped in the water to save him. The child was able to safely make it to shore where he ran to a citizen who called 911. The father never resurfaced.
Fire and rescue personnel from Tenth District, Nanjemoy, NDW Indian Head, the Charles County Dive Team worked together along with the US Coast Guard, Charles County K9 Units, Maryland DNR and Maryland State Police to assist in the search for the missing man.
Authorities concluded the search after operating for over 4 hours. The Maryland Department of Natural Resources Police is handling the investigation which is now a recovery operation.
Family members and Officials have identified the missing subject as Marvin Harris, who jumped into the water to save his 8-year-old son who fell in from their boat. They say the father and son were fishing about 25-30 feet from shore when they went into the water.