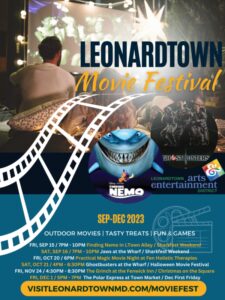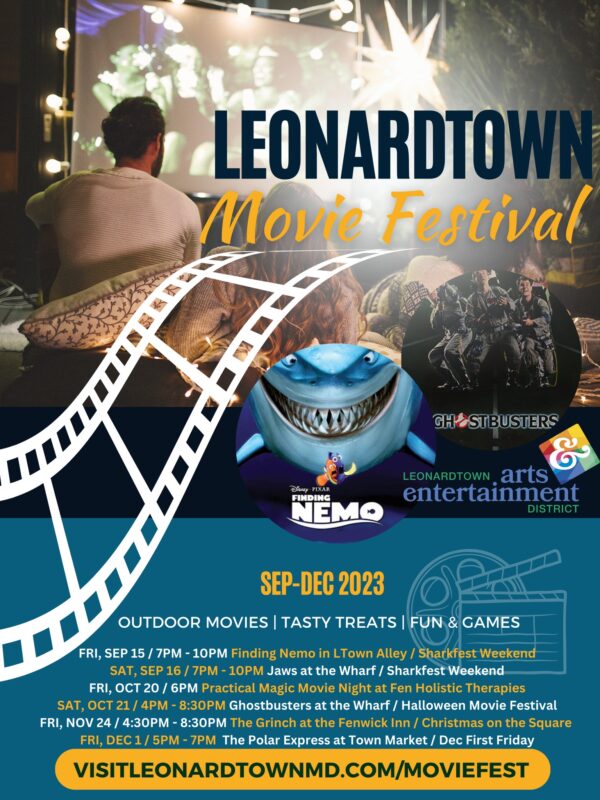 Leonardtown is excited to announce the launch of the Leonardtown Movie Festival with Sharkfest Weekend (Friday, September 15th – Sunday, September 17th). Enjoy the screenings of two popular Hollywood Blockbuster movies during this exciting weekend.
First, join us in LTown Alley (at the Alice in Leonardtown Mural on Park Avenue across from the Good Earth) on Friday, September 15, 2023 for the screening of Finding Nemo, a heart-warming story about a lost fish who find his way home with the help of some colorful new friends.
Bring a blanket or lawn chair and enjoy popcorn (kettle corn will be available for sale through Crabby Corn Kettle Corn) as you kick back and watch this sweet animated tale. Come early to enjoy games and art activities with Tape a Friend, Make a Friend from 7 p.m. – 7:30 p.m. The movie screening is from 7:30 p.m. – 9:30 p.m.
Then on Saturday, September 16, 2023, dare to join us for Jaws (License #2098994) at the Wharf! Stay on land or if you're feeling brave, come by boat to watch the screening of the 1975 thriller classic directed by Steven Spielberg. Land lovers can catch FREE shuttle rides from the Leonardtown Trolley provided by Patuxent Transportation (courtesy of the Town of Leonardtown) from the Leonardtown Square down to the Wharf. The trolley is scheduled to run from 2 p.m. – 10 p.m. throughout the day. Land lovers, please bring your own lawn chair or blanket for your comfort.
In addition to this exciting movie, attendees will be able to purchase and enjoy tasty eats from the Brudergarten, award-winning wine from the Port of Leonardtown Winery, kettle corn from Crabby Corn Kettle Corn, and sweet treats from the Frog Town Ice Cream Shop.
This event is FREE and open to the public. Space is limited and available on a first come, first serve basis.
For more information visit: visitleonardtownmd.com/moviefest