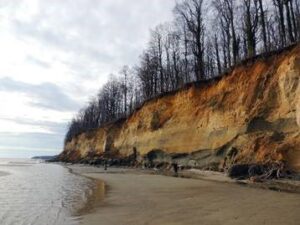 Calvert Cliffs extend intermittently for about 30 miles along the western shore of the Chesapeake Bay, from southern-most Anne Arundel County to the southern tip of Calvert County, Maryland.
If you are a lover of turtles and/or dolphins, specifically fossilized ones found along the famous fossil-rich Calvert Cliffs, this free on-line Smithsonian Institution publication will be of interest to you.
The work entitled "Geology and Vertebrate Paleontology of Calvert Cliffs, Maryland, USA – Volume 2, Turtles and Toothed Whales" is available as a searchable PDF here: https://doi.org/10.5479/si.23847438

This scholarly work describes 19 kinds of extinct turtles that have been found locally and over 30 kinds of dolphins! One new species of turtle is reported as well as nine new kinds of dolphins.
The new turtle species is based on a small portion of its fossilized shell. What is also amazing is that all nine of the new fossil dolphin skulls were found by amateur paleontologists.
The new scientific names given to these dolphins honors those who found the skulls, including additional individuals who have made a significant contribution to the science of paleontology.
All nine new dolphin species were based on single skulls, which highlights how incomplete the fossil record is to date. Of the millions of individuals of each of those species that existed on Earth millions of years ago, at present, we only know of the existence of each of those species base on single incomplete skulls that were serendipitously preserved in the fossil record. There is, indeed, much to be learned from future fossil finds.
This publication was an international collaboration between the Royal Institute of Natural Sciences in Belgium (Dr. Olivier Lambert) and the Calvert Marine Museum (Dr. Robert E. Weems, Research Associate in the Department of Paleontology and Dr. Stephen J. Godfrey, Curator of Paleontology).
Unfortunately, there are very few places where the public can see the cliffs. Locations from north to south are: Matoaka Beach Cabins, Flag Ponds Nature Park, and Calvert Cliffs State Park. Please check location's websites for fees, hours, and to plan your visit. Keep in mind that digging in the cliffs is not permitted without permission. However, fossils on the beach, below the high tide line, can be collected and kept.