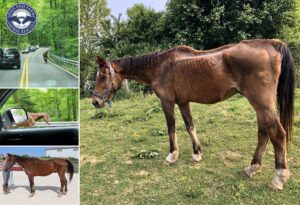 In May 2023, Days End Farm Horse Rescue (DEFHR) received a call from the Prince George's County Animal Control stating that a horse was found walking along Croom Station Road in Upper Marlboro.
The horse was extremely thin, wore no halter, and was not recognizable to citizens living in the area.
Animal Control's question of 'Can you take him?' was answered 'Absolutely!'
'Quirky Quigley', as we call him, arrived in a poor state. Exhausted by his walkabout and trailer ride, his presentation was dull and lethargic.

When offered small portions of hay, he would chew and quickly drop it from his mouth due to the poor condition of his remaining teeth.
Upon examination by our veterinarian, Quigley was found to be dehydrated, experiencing elevated vitals, given a body condition score of 2 out of 9 (5 is ideal), and had minor lacerations and moderate abrasions throughout his hindquarters.
Quigley remained quiet and dull while starting his rehabilitative feeding plan. He received around-the-clock care in the initial days following his arrival due to his abnormal vitals, dehydration, and required soaked forage meals.
After two weeks he experienced an unexplained infection that required antibiotics and medications for gastric ulcers but once resolved, the dull, quiet Quigley's eyes and attitude became brighter!
Quigley is now a horse that is a blend of sweet and salty. He loves affection but is not shy about expressing opinions on things that are less enjoyable…like baths! Seeing this side of his personality helps us appreciate that it was this fighting spirit that led him to make a break for freedom in search of help, and ultimately, into our care.
Rehabilitative care is estimated to be upwards of $2,500 a month per horse. If you would like to help DEFHR with their mission of helping horses in need, click here to donate! Rehabilitative care is estimated to be upwards of $2,500 a month for each horse. Join us in helping horses like Quigley find their better tomorrow.
Credit: Days End Farm Horse Rescue via Facebook