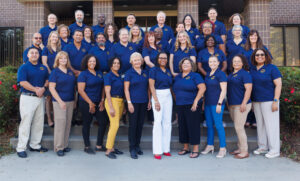 LEONARDTOWN, MD – September 19, 2023: The Leadership Southern Maryland (LSM) Board of Directors is pleased to announce the selection of 35 Southern Maryland leaders for its 16th Executive Program cycle—the Class of 2024.
The Leadership Southern Maryland (LSM) Board of Directors is pleased to announce the selection of 35 Southern Maryland leaders for its 16th Executive Program cycle—the Class of 2024.
From Calvert County –
Eryn Lowe, Senior Communications Program Manager, Calvert County Government
Karyn Molines, Natural Resources Division Chief, Dept. of Parks & Recreation, Calvert County Government
Dr. Dale Moore, President, The Moore Group, LLC
Kathryn Poff, CISO/Deputy Director of Technology Services, Calvert County Government
Sheebah Smith, Deputy Director of Economic Development, Calvert County Government
Christopher Sperling, Historic Preservation Planner III, Dept. of Planning & Zoning, Calvert County Government
From Charles County –
Stephanie Cleaveland, Assistant CNO, Director of Emergency Services, CalvertHealth Medical Center
Pamela Frank, Executive Director, Charles County Military Alliance Council
Shelley Mackey, Director, Communications & Media Relations, Charles County Public Schools
Renesha Miles, Chief Equity Officer, Charles County Government
Gregory Proctor, Vice President, G.S. Proctor & Associates
Rhosheeda Proctor, Diversity & Inclusion Director, Southern Maryland Electric Cooperative
Stephanie Rolle, Chief Executive Officer, United Way of Southern Maryland
Robert Selkirk, First Sergeant, Calvert County Sheriff's Office
Travis Bernard Walker, Ordinance Assurance & Safety Director, U.S. Department of the Navy
Perliter Walters-Gilliam, President, NBBE Consulting
Dr. Yolanda Wilson, President, College of Southern Maryland
From St. Mary's County –
Douglas Belvin, Vice President, Growth Operations, SMX
Jameika Butler-Turner, Executive Director, Pyramid Healthcare
Marcia Chase, Chief Human Resources Officer, Naval Systems, Inc.
Erin Emery, Vice President and Co-Founder, The AVA Group
Christina Good, Director of Pricing and Strategy, Island Creek Associates
Nicole Hedderich, Associate Vice President, Quality & Risk Management, CalvertHealth Medical Center
Kristin Kauffman, Chief Marketing Officer, Cedar Point Federal Credit Union
Michael Magee, President, Magee Technologies, LLC (MTech)
Maria McDonald, Development Director, Annmarie Sculpture Garden and Arts Center
Colleen O'Hare, Program Manager, MAG Aerospace
Trisha Post, Facility Security Officer, ABSI Aerospace & Defense
Paul Reynolds, Principal Technologist, Mission Solutions Group, SMX
CAPT Glenn Rioux, NAVAIR Principal Military Deputy for Engineering, Naval Air Systems Command
Jessica Roberts, Director of Case Management, MedStar St. Mary's Hospital
Michael Schachterle, Senior Program Manager, MAG Aerospace
Jodi Stanalonis, Chief Staff Officer, ACE Consulting Group, LLC
Leslie Taylor, Vice President/Executive Advisor, MIL Corporation
Joe Wade, Director of Business Operations and Programs, Systecon North America
Following a two-day opening retreat in September, class members will attend nine intense, monthly sessions focusing on agriculture, economic and workforce development, defense, education, healthcare, public safety, housing and human services, diversity and inclusion, and energy and environment.
The sessions will conclude with a closing retreat and graduation in May. More than 50 experts from across the region and state, and representing business, government, education, and the nonprofit community, will serve as panelists and guest speakers.
Leadership Southern Maryland (LSM), a 501(c)(3) nonprofit organization, is an independent community leadership development organization designed to broaden the knowledge base of mid- to senior-level public and private sector executives about the critical issues, challenges, and opportunities facing the region.
Founded in 2008, LSM has graduated more than 500 community-engaged Southern Maryland leaders.