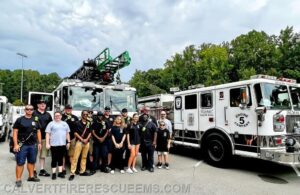 By FREMS Division Erin Ward – Our dedicated heroes donned their capes and helmets as they embarked on two incredible events this weekend: Superhero Sunday at Dunkirk District Park and the 22nd Annual Calvert County Watermen's Festival and Boat Docking Contest in Solomons, Maryland.
Calvert County Parks and Recreations Superhero Sunday
Dunkirk Park was filled with excitement as our real-life superheroes joined forces with the community. From Spider-Man and Wonder Woman to First Responders and Community Partners, this event embodied the spirit of heroism and camaraderie.
Some of our favorite superheroes from Dunkirk Volunteer Fire Department and the Calvert County Rescue Dive Team powered up the weekend by bringing their state-of-the-art equipment and shared the importance of fire and water safety and emergency preparedness with the future superheroes of our community.

It was an epic day filled with activities, superhero sightings and delicious food but the best part of the day was the time we spent meeting so many attendees who came out to join in the fun!
22nd Annual Calvert County Watermen's Festival in Solomons
Meanwhile, in Solomons, the rich maritime heritage of our county was being celebrated at the 22nd Annual Calvert County Watermen's Festival and Boat Docking Contest.
We had the privilege of interacting with local watermen, community members as well as our friends at Solomons Volunteer Rescue Squad and Fire Department who were on hand to not only staff the first aid tent but also answer questions regarding how you too can be a part of their amazing department and help your community.
This weekend has been a testament to the unwavering commitment of our first responders. Thank you to our incredible team, volunteers, the community, and everyone who came out to support these fantastic events. Your support keeps us motivated to serve Calvert County!