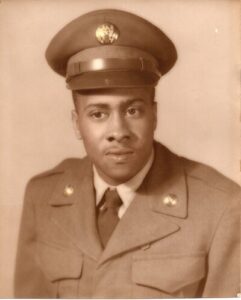 James "Wilbur" Greene, 92, of Dameron, MD departed this earthly life on August 21, 2023, at home with  his family at his bedside. "Wilbur" affectionately known to family and friends was born on October 6, 1930 to the late Charles and Irene Marie Hawkins Greene.
Upon graduating from Jarboesville High School, June 14, 1947, he enlisted in the U.S. Army. Wilbur was a Korean War Veteran, he also served two tours of duty in Germany. After serving nearly three years in the Army, he received an Honorable Discharge. Returning home he went to work for several road construction crews. He then met Cecelia Delores Harris and the court-ship began. Wilbur proposed to Delores after nearly a year long courtship. The couple married on December 18, 1954 at St. Peter Claver Catholic Church. From this union of marriage Wilbur and Delores had five children, Florinda, Wilhemina, Kevin (deceased), Francis and Felicia. Wilbur leaves one other son Bruce Carroll.
Wilbur then began his 25 years of service as a brick-layer at the Public Works on Patuxent Naval Air Base, Lexington Park, MD. After retiring for one year he decided he would return to work with a couple of contractors on the base. Wilbur loved the Friday/Saturday night card parties. He was the consummate card shark, talk about studying "those" cards. He enjoyed lawn and gardening. The early Saturday mornings 3:30am to 4:00am wake-up calls to go fishing and crabbing. Wilbur loved raising pigs, chickens and rabbits, a regular Farmer Greene. Those Sunday mornings were important to him as well, spending that time in church being thankful and grateful. Wilbur will be missed by all. Rest soldier rest.
Wilbur leaves to mourn his wife of 69 years. Delores and children Florinda, Wilhemina, Francis, Felicia and Bruce; grandchildren and great grandchildren; siblings Delores and Hilda and numerous nieces and nephews. Predeceased by son (Kevin), brothers (Leo, Robert, Leonard and Tyrone) and sister (Linda).
Condolences to the family may be made at www.brinsfieldfuneral.com.
Arrangements by the Brinsfield Funeral Home, P.A.