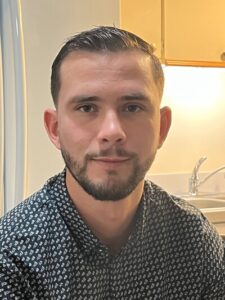 William Michael McFann, 26, of Piney Point, MD passed away on September 16, 2023.
He was born on January 7, 1997 in Leonardtown, MD to James William McFann of Piney Point, MD and Marion Lavenia (Nelson) Potter of Leland, NC.
Michael was born and raised on St. George's Island. He was a 2016 graduate of Leonardtown High School. He had a zeal for life and was adventurous from an early age. Having a natural affinity for the water, he enjoyed sailing and spending time on his power and sail boats. His passion for the water extended to all facets of his life; he thoroughly enjoyed the difficult and challenging job as mate on a commercial crabbing boat and later on working on USN ships in varying roles. He was a skilled wake boarder but equally at home on his snowboard. His many hobbies included riding ATV's, motocross, 4×4 off-roading, hunting and sport shooting. As a self-taught electronics technician, he designed and built his own high performance flying drones. Michael collected a wide variety of music, and the sound system he installed in his Bronco would signal his impending arrival home while still a quarter mile up the island.
He is survived by his parents, James McFann (Judi Burfoot) of Piney Point, MD and Marion Potter (Gary Potter) of Leland, NC; his siblings: Steven Alan Elgersma and Stephanie Nicole Elgersma (Shea Austin William Ridgell), his nephew Shawn Scott Ridgell, and nieces Emma Katherine Nicole Peterson and Lily Cecelia Ridgell, all of Marathon, FL; Benjamin Edsel Potter of Portland, OR; Jennifer Leah McFann of Dallas, TX; Sara Christine McFann of Piraeus, Greece; and Adrian Alger Seljeseth (Stine Fredriksen) of Stavanger, Norway; his niece, Mia Seljeseth; his nephew, Emil Seljeseth; and his beloved aunt Sheila Nelson,  many extended family and friends.
The family will receive friends on Friday, September 22, 2023 from 5:00 to 8:00 p.m., with a prayer service celebrated by Rev. Greg Syler at 7:00 p.m., at Brinsfield Funeral Home, P.A., 22955 Hollywood Road, Leonardtown, MD 20650. Interment will be private.
Memorial contributions may be made to Shriners Hospital for Children, 3551 North Broad Street, Philadelphia, PA 19140.
Condolences to the family may be made at www.brinsfieldfuneral.com.
Arrangements by the Brinsfield Funeral Home, P.A.