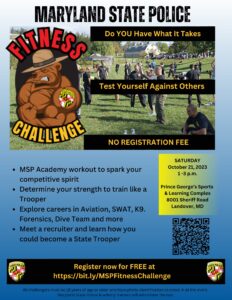 Register online now and guarantee your spot in the Maryland State Police Fitness Challenge, set for Saturday, October 21, 2023.
The free event will take place at the Prince George's Sports and Learning Complex, located at 8001 Sheriff Road, Landover, Maryland 20785.  Register online and be sure to check in before 1 p.m. at the event.  Check-in begins at 12:30 p.m.
The Maryland State Police Fitness Challenge includes a 1 ½ miles of running, along with a series of other exercises, including burpees, squats, push-ups and sit-ups.  The Challenge was designed by MSP trainers who know what it takes to succeed in one of the finest police academies in the country.
This Challenge incorporates facets of the Maryland State Police Functional Fitness Assessment Test. It also simulates the physical demands placed on our law enforcement professionals.
Online registration is required for the event and you must be at least 18 years old to participate. Those among the top finishers will be awarded a Maryland State Police T-shirt.
In addition to the challenge, representatives from various units within the Maryland State Police, including the K-9 Unit, Aviation Command, and the Forensic Sciences Division, will be on hand to answer questions for those interested in pursuing a career with the Department.
All participants must check in prior to 1 p.m. to be eligible for the race and the giveaways.
For more information on how to register for the event and/or careers with the Maryland State Police, visit the department's web page.