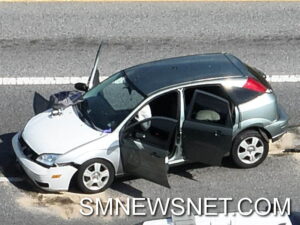 UPDATE: On September 21, 2023, police responded to a residence on Midway Drive in Lexington Park, for the reported stolen vehicle.
Upon making contact with the 911 caller they stated the vehicle was left unattended, running with the keys in the ignition.
They advised while inside the residence, they heard a motor revving and came outside to observe an unknown aged black male in the driver seat of their 2006 Ford Focus.
The suspect and vehicle fled the area. Police attempted to locate it within the area with negative results.
A few hour later, Deputy Senatore located the vehicle travelling on Three Notch Road and attempted to pull the vehicle over, the vehicle fled and nearly caused multiple motor vehicle collision during a 5 mile pursuit before the suspect ultimately struck multiple curbs on the Northbound side of Three Notch Road at Travelled Lane and came to a rest in the Southbound lanes before fleeing on foot.
A citizen who happened to be in a nearby parking lot tackled the suspect and held him until deputies arrived and placed him into custody.
The suspect, identified as Dimarian E. Logan age 20 of Lexington Park, was arrested and found to be in procession of multiple stolen items belonging to the vehicle owner.
Emergency medical personnel transported the suspect to an area hospital for evaluation.
Logan has been issued the following citations and charges.
FOLLOWING VEH. TOO CLOSELY
FAILURE YIELD RIGHT OF WAY ON LEFT TURN
FAILURE TO DRIVE RIGHT OF CENTER
FAILURE TO RETURN TO & REMAIN AT SCENE OF ACCIDENT INVOLVING ATTENDED (VEH.DAMAGE,PROPERTY DAMAGE)
DRIVER USING HANDS TO USE HANDHELD TELEPHONE WHILE MOTOR VEHICLE IS IN MOTION
ATTEMPT BY DRIVER TO ELUDE POLICE IN OFFICIAL POLICE VEHICLE BY FAILING TO STOP
ATTEMPT BY DRIVER TO ELUDE UNIFORMED POLICE BY FAILING TO STOP
ATTEMPT BY DRIVER TO ELUDE POLICE IN OFFICIAL POLICE VEH. BY FLEEING ON FOOT
ATTEMPT BY DRIVER TO ELUDE UNIFORMED POLICE BY FLEEING ON FOOT
AGGRESSIVE DRIVING
RECKLESS DRIVING
NEGLIGENT DRIVING
DRIVING MOTOR VEHICLE OFF ROADWAY WHILE PASSING VEHICLE
UNSAFE LANE CHANGING
DRIVER FAILURE TO OBEY PROPERLY PLACED TRAFFIC CONTROL DEVICE INSTRUCTION
DRIVING WHILE SUSP. UNDER (16-203, 16-206A2 FAIL TO ATTEND DIP, 17-106, 26-204/206, 27-103)
PERSON DRIVING MOTOR VEH. ON (HWY., PUBLIC USE PROPERTY) ON REVOKED LIC. AND PRIVILEGE
PERSON DRIVING MOTOR VEH. ON (HWY., PUBLIC USE PROPERTY) ON SUSPENDED LIC. AND PRIVILEGE
DRIVING/ATTEMPTING DRIVE MOTOR VEH. ON HWY W/O REQ. LICENSE AND AUTHORIZATION
FAILURE TO CONTROL VEH. SPEED ON HWY. TO AVOID COLLISION
DRIVING VEH IN EXCESS OF REASONABLE AND PRUDENT SPEED ON HWY
DRIVING VEH. ON HWY. AT SPEED EXCEEDING LIMIT (Recorded 110 mph in a 55mph zone.)
MOTOR VEH/UNLAWFUL TAKING
THEFT: $1,500 TO UNDER $25,000
THEFT: $100 TO UNDER $1,500
THEFT LESS THAN $100.00
CRED CARD:STEAL ANOTHER'S
CDS: POSSESS-NOT CANNABIS
CDS: POSSESS-NOT CANNABIS
9/21/2023:
Fire and rescue personnel were dispatched to the area of Three Notch Road and Golden Beach Road for a motor vehicle collision with injuries at 2:20 p.m.
Police are advising Southbound lanes of Three Notch Road at Traveled Lane in Charlotte Hall are closed due to the motor vehicle collision and ongoing investigation involving a stolen vehicle.
At least two subjects are being evaluated by emergency medical personnel.
"The St. Mary's County Sheriff's Office advises Southbound Route 5 in the area of Golden Beach Road will have traffic backups and detours for the next 2 hours as of 2:30 p.m."
Verizon has been requested to the scene for damaged property. Charles County Sheriff's Office was requested to setup at the county line, however, they were cancelled
Updates will be provided when they become available.