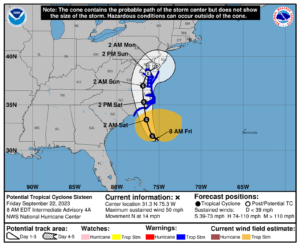 The National Weather Service is forecasting potentially severe weather that will likely impact St. Mary's County this weekend, beginning Friday evening, September 22, 2023, and continuing through Sunday morning, September 24, 2023, due to potential Tropical Cyclone Sixteen.
This storm is anticipated to bring impacts, including tropical storm-force winds, storm surge, heavy rain, power outages, and high surf.
St. Mary's County Government's Department of Emergency Services urges all residents to prepare for this storm. How to prepare:
Sign up for local alerts at: stmaryscountymd.gov/codered
Know the difference between a watch and warning.

WATCH: A hurricane, tropical storm, or flooding is possible.
WARNING: Conditions are expected within 36 hours; take immediate precautions.

Get your home ready. Store outside items, such as lawn furniture and trash cans, to prevent them from being moved by high winds and possibly hurting someone.
Stay alert for extended rainfall and subsequent flooding.
Stay indoors; avoid beaches, riverbanks, and floodwaters.
Don't walk, swim, or drive through floodwaters. Remember: Turn around, don't drown.
Use flashlights in the dark if the power goes out. Avoid using candles.
Tune into your local radio, NOAA radio, or news channels for the latest updates.
Visit stmaryscountymd.gov/prepare for more preparedness tips.
For more information, please contact the Department of Emergency Services at (301) 475-4200 ext. 2123, or via email to [email protected].