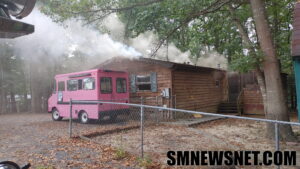 On Friday, September 22, 2023, at approximately 12:50 p.m., firefighters from Bay District, NAS Patuxent River, Second District, Ridge, and Hollywood responded to the 20600 block of Hermanville Road in Lexington Park, for the reported bathroom on fire.
While responding to the scene, 911 callers advised the fire was spreading.
Bay District VFD Engine 31 arrived on the scene to find a single story residence with smoke showing.
Firefighters from Bay District and NAS Patuxent River utilized two attack lines and entered the structure to find fire in the ceiling with extensions into the attic.
Personnel controlled the fire within 15 minutes of arrival and began a search of the residence due to reports of one subject possibly missing.
All searches proved negative results and all occupants were accounted for.
Upon consulting the fire marshal, the fire was deemed accidental and determined to be caused by a bathroom fan motor.
The American Red Cross was contacted for 3 occupants, however, it is unknown if they have responded.
No injuries were reported and all units returned to service within an hour and 30 minutes.