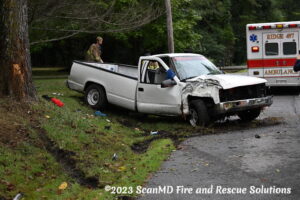 On Sunday, September 24, 2023, at approximately 2:05 p.m., police, fire and rescue personnel responded to the area of Point Lookout Road and Ivy Hill Lane in Park Hall, for the reported motor vehicle collision with ejection.
Crews arrived on the scene to find the collision occurred in the 17000 block of Point Lookout Road and found a single pickup truck off the roadway, into a tree with the unknown aged male operator ejected and unconscious.
The patient was transported to an area hospital with injuries believed to be serious and/or life-threatening. A helicopter was requested however all were down due to weather.
Police responded and due to the severity of the crash, Traffic Reconstruction was conducted.
Updates will be provided when they become available.
All photos courtesy of ScanMD.