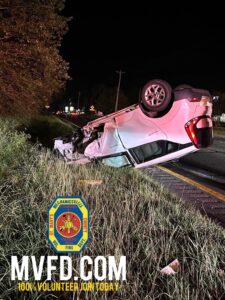 On September 23, 2023, at approximately 12:53 a.m., police, fire and rescue personnel responded to the 28000 block of Three Notch Road in Mechanicsville, for the reported motor vehicle collision with injuries.
Crews arrived on the scene to find a single vehicle in the roadway and on its roof after striking a utility pole.
The operator and single occupant of the vehicle signed care refusal forms on the scene.
No injuries were reported and all fire and rescue personnel returned to service within 30 minutes.
All photos courtesy of the Mechanicsville Volunteer Fire Department. Volunteer with them today by clicking here!