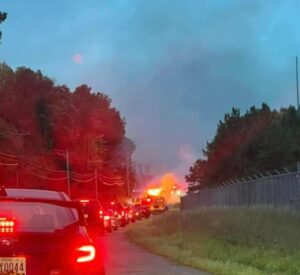 On Wednesday, September 27, 2023, at approximately 6:40 a.m., police, fire and rescue personnel responded to Forest Park Road and Pine Hill Run Road in Lexington Park, for the reported motor vehicle collision with one on fire.
Fire and rescue personnel responded to reports of a 2-vehicle collision with no injuries and one vehicle on fire.
Firefighters arrived on the scene to find two vehicles in the roadway fully engulfed in flames and one off the roadway. All occupants were out of the vehicles and no injuries were reported.
Personnel from NAS Patuxent River, Bay District, and Ridge responded to the scene and operated for approximately 1 hour.