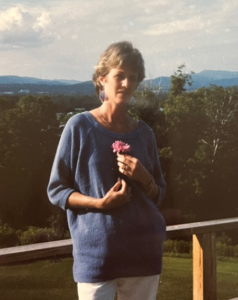 Jane Briggs Beddoe Wilcox of North Beach, Md., passed away peacefully in her home on September 15, 2023, surrounded by her three children, Marysa Wilcox Wambua of Orangeburg, N.Y., (husband Mathew Wambua), Julia Wilcox of Alexandria, Va., and Rick Wilcox (wife Emily Straight) of Alexandria, Va. She is also survived by four grandchildren Lilly Wilcox, Eli Wilcox, Danson Wambua and Elias Wambua.
She was predeceased by her mother Nancy Jane Briggs Beddoe, her father Robert Inglis Beddoe, sister Christine Beddoe Manor and brother Robert Inglis Beddoe II.
Jane was born in New York City on September 8, 1942, and grew up on a farm in Killington, Vt., where she and her family raised animals and tapped trees for maple syrup. It was in Vermont where she learned to ski, taught by her father. Skiing would become a lifelong passion that took her to many slopes around the world.
Jane graduated from Union-Endicott High School in Binghamton, N.Y., where she proudly played the trombone in the school marching band. She received her undergraduate degree from SUNY Potsdam and went on to get her master's in education from Boston University. After raising her three children, Jane became a truly gifted special education teacher, touching the lives of many children who adored her.
Jane had a broad range of hobbies. She developed a love of bridge while raising her kids in Granby, Ct. She was a community theater enthusiast performing on stage while living in Glens Falls, N.Y. She was an avid soccer fan. Two highlights of her later life included a trip to Spain to watch Lionel Messi and FC Barcelona clinch La Liga championship and seeing her beloved Bayern Munich play a preseason friendly against DC United in Washington, DC. She spent most of her weekends watching English Premier League and Bundesliga soccer matches. Jane was an excellent gardener. Her front yard has been developed into a riot of native and tropical plants attracting hummingbirds and admiring neighbors and two Best Garden awards. She showed her love and appreciation by making bead bracelets for her friends and caregivers.
Lastly, Jane was proud to go through the ranks of the Girl Scouts, eventually becoming a scout leader. She was proud to live her life by their motto, to "always be prepared" and demonstrated as much by living out her days as she intended.