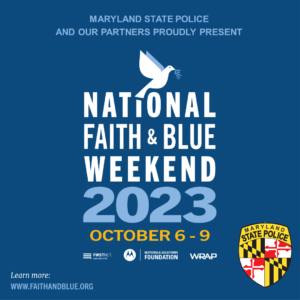 Maryland State Police will join faith-based organizations and law enforcement agencies across the state to celebrate National Faith & Blue Weekend, which is set for Oct. 6-9, 2023.
National Faith & Blue Weekend is a collaborative initiative that builds bridges and breaks down biases through activities and outreach amongst law enforcement professionals and the communities they serve.
Faith & Blue was launched to facilitate safer, stronger, more just and unified communities by directly enabling local partnerships among law enforcement professionals, residents, businesses and community groups through the connections of local faith-based organizations.
The weekend is based on the premise that strong communities are built on mutual respect, trust and understanding. Law enforcement entities and faith-based groups are key pillars of a local community, and when they work together, neighborhoods thrive.
Maryland State Police is embracing this concept and have events planned everywhere from Western Maryland to the Baltimore region to the Eastern Shore and Southern Maryland. Troopers will gather with communities of many faiths with the goal of realizing effective police-community engagement.
Maryland State Police will participate in the following events:
Oct. 6
Kids Movie Night – 5 to 8 p.m. at Greater Grace World Outreach Church, 6025 Moravia Road, Baltimore Maryland 21206
Oct. 7
Community Faith-Based Gathering – 5 to 7 p.m. at City Church Fruitland, 620 West Main Street, Fruitland, Maryland 21826
Oct. 8
Law Enforcement Prayer Service – 9 to 11 a.m. at Greater Grace World Outreach Church, 6025 Moravia Drive, Baltimore, Maryland 21206
Prayer Service & Ceremonial Prayer for Law Enforcement – 10:45 a.m. at Pleasant View Baptist Church, 150 Downin Lane, Port Deposit, Maryland 21904
Coming Together Car Show – 1 to 4 p.m. at Encounter Christian Center, 30080 Henry Lane, Charlotte Hall, Maryland 20622
Community Gathering – 2 to 5 p.m. with LaVale Baptist Church at 1140 National Highway, LaVale, MD 21502
Troopers are looking forward to celebrating this important community building weekend with residents across Maryland.