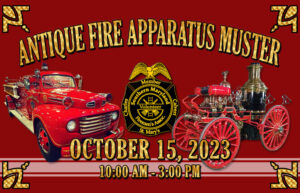 The Southern Maryland Volunteer Fireman's Association will host an Antique Fire Apparatus Muster on Sunday the 15th of October at the Maryland Fire & Rescue Institute, 10375 Audie Lane in LaPlata Maryland.
The event will run from 10:00 a.m., to 3:00 p.m., and will feature everything from 1800's vintage hand drawn units to more modern motorized apparatus to reflect the changes that have been made in technology with the design of fire apparatus.
Visitors will be able to see like apparatus side by side so those changes in technology will be obvious. We encourage all apparatus to attend both department and privately owned.
There will be food on site for sale and a Flea Market with Fire service Related items for sale as well. Fun for the Whole Family so Come on By and see Us!
Each registered apparatus will receive a participation plaque and several awards will be presented after judging is complete. Food will be available for purchase and restroom facilities available on site.
Event will be held Rain or Shine on Sunday, October 15, 2023, from 10:00 a.m., to 3:00 p.m.
Registration begins at 10:00 a.m.
11:00 to 2:30 Pumping Antique Apparatus
12:00 p.m., Judging begins
12 and 1:30 p.m., Demonstration of 1890's Hand Pumper and Hand Drawn Hose Reels
3:00 p.m., Awards
There is no registration fee or parade.
Award categories are
Best Privately Owned Apparatus at Draft
Best Department Owned Apparatus at Draft
Best Appearing Hand Drawn Apparatus
Best Privately Owned Apparatus on Static Display
Best Department Owned Apparatus on Static Display
Apparatus Driven the Longest Distance
Apparatus Trailers the Longest