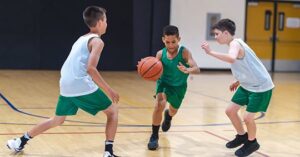 St. Mary's County Government's Department of Recreation & Parks (R&P) welcomes youth to participate in the 2023-24 Recreational Basketball season.
Registration opens Monday, October 2, 2023, for grades 1-10 to participate in league play throughout the county. Registration will be available through November 3, 2023, or until filled. Certain grade levels will fill quickly, so do not delay in registering your child.
League participation includes weekly practice and games on Saturdays at designated locations. The 9th – 10th grade league, however, will play games on Sundays at Leonardtown High School. For specific details related to team selection and league expectations, please visit www.stmaryscountymd.gov/sports to review the parent handbook.
To register, please visit www.stmaryscountymd.gov/recreate and click Online Registration. Please be sure to select the appropriate age group and preferred location. Additional details such as practice times and games times will be distributed in November once teams are formed.
For more information, please contact Recreation & Parks at [email protected] or by calling (301) 475-4200 ext. 1800.
Stay up to date with R&P information by following them at Facebook.com/stmarysmdrecreation or on Instagram @stmarysrecandparks.