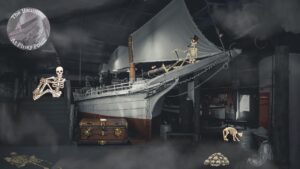 The St. Mary's County Government's Museum Division is excited to present "The Haunting at Piney Point: A Family Friendly Halloween Experience" on Friday, October 27, 2023, and Saturday, October 28, 2023, from 5 p.m. – 9 p.m. at Piney Point Lighthouse Museum & Historic Park.
For two nights only, the wooden watermen boats on display in the Maritime Building, which once plied the waters of the Potomac and Chesapeake, will transform into haunted pirate galleons and local "afterlife" wildlife will come out to play.

This self-guided Halloween-themed tour is free to the public and appropriate for all ages. The exhibit features mild Halloween fun with low lighting and spooky sounds, but no gore, jump scares or any other shockers. Stairs are present in parts of the museum, but the rest of the exhibit is wheelchair accessible.
The main museum building will remain open for restroom use and gift shop purchases. Rips Hotdogs will be on site Friday, October 27th offering food and snack options after the experience.
For more information about the event, please visit Facebook.com/1836Light or call Piney Point Lighthouse Museum at (301) 994–1471.
About the St. Mary's County Museum Division: The St. Mary's County Museum Division was established by the Commissioners of St. Mary's County to collect, preserve, research, and interpret the historic sites and artifacts which illustrate the natural and cultural histories of St. Mary's County and the Potomac River. These sites include St. Clement's Island Museum, Piney Point Lighthouse Museum, the Old Jail Museum, and the Drayden African American Schoolhouse. With this as its charter, the Museum Division serves as a resource, liaison and community advocate for all St. Mary's County public and private cultural assets. For more information, please visit: museums.stmarysmd.com.