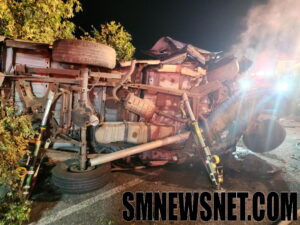 On Wednesday, October 4, 2023, at approximately 4:05 a.m., police, fire and rescue personnel responded to the area of Three Notch Road and Town Creek Drive in California, for the motor vehicle collision reported serious with one overturned and trapped.
Crews arrived on the scene to find a pickup truck on its side with the operator trapped after striking multiple trees.
Firefighters extricated the patient in under 15 minutes.
A helicopter was requested, however, all were down due to weather. EMS began ground transporting the patient to an area trauma center before diverting to an area hospital due to the patient becoming combative.
Police are investigating the collision.