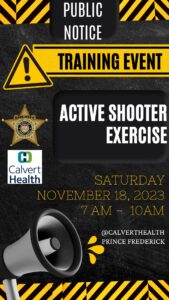 CalvertHealth Medical Center will be conducting an Active Shooter Drill/Live Exercise on Saturday, November 18, 2023, from 7:00 a.m. until 10:00 a.m.
The exercise will be held in conjunction with the Calvert County Sheriff's Office and Maryland State Police – Prince Frederick Barrack "U".
You may see a large police presence at the hospital during these times. To avoid any confusion, the public is notified ahead of time.
This exercise is closed to the general public. CalvertHealth will be at normal operations during the live exercise.
If you have any questions, please contact the CalvertHealth Security Department at 410-535-4000.