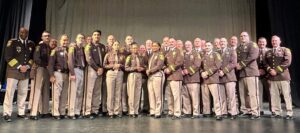 The Charles County Sheriff's Office is proud to announce the Southern Maryland Criminal Justice Academy (SMCJA) celebrated the graduation of 16 correctional officers – nine from the Charles County Detention Center – from the Corrections Entrance Level Training Program (CELTP), Session 70, at a ceremony held November 9 at La Plata High School.
The program requires each correctional officer to complete an eleven-week Basic Corrections Academy, which exceeds the state minimum for all correctional officers working in local correctional facilities across Maryland.
"We congratulate each of these officers, as well as their families, upon completing the academy," said Charles County Detention Center Director Ryan Ross. "We are proud of their commitment and their decision to serve in this profession. We also recognize and thank our outstanding Academy Staff for their dedication to training and preparing all of the officers for a challenging and deeply rewarding career."
During the graduation ceremony, SMCJA instructors presented awards to graduates who excelled in different categories: Taylor Williams (Charles County) received the Scholastic Achievement Award with a 98.40 percent GPA; Ward Grove (Charles County) received honorable mention with a 98.21 percent GPA, and Gissell Garrido-Bautista (Charles County) achieved over 95.0 percent GPA.
Kolbey Cooper (Charles County) was honored with the Steve Allen Leadership Award, named after one of the original founders of the SMCJA who died of cancer several years ago. D'Lante Briscoe (St. Mary's County) was honored with the Highest Physical Fitness Award.
Please join Sheriff Troy Berry, CCDC Director Ryan Ross, and the Charles County Sheriff's Office in congratulating and welcoming:
Correctional Officer Kolbey Cooper
Correctional Officer Romelisa Francois
Correctional Officer Gissell Garrido-Bautista
Correctional Officer Ward Grove
Correctional Officer Ronald Scott
Correctional Officer Justin Thompson
Correctional Officer Dylan Walker
Correctional Officer Taylor Williams
Correctional Officer Niko Woodland
We also celebrate our partners in Calvert County and St. Mary's County for their successful completion of the academy. We extend best wishes to all for long and distinguished careers. Learn more about becoming a Charles County Sheriff's or Correctional Officer by visiting our website at WWW.CCSO.US
The CCSO was accredited by the Commission on Accreditation for Law Enforcement Agencies, Inc. (CALEA) in 2001 and has since earned the highest rating of Excellence. Established in 1658, the CCSO is one of the oldest law enforcement agencies in the United States. For more information, visit www.ccso.us.