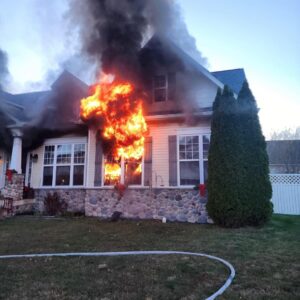 On Tuesday, November 14, 2023, at approximately 4:40 p.m., fire and rescue personnel responded to the 1000 block of Martin Drive in La Plata, for the reported house on fire.
Crews arrived on the scene to find smoke showing from a 2-story residence.
Firefighters entered the residence to find fire in living room and extinguished the fire in under 20 minutes while completing searches of the residence and checks for extensions. The fire was contained to one room.
The Office of the Maryland State Fire Marshal was requested to investigate the cause of the fire, it is believed to have started from a heater.
No injuries were reported.
All photos courtesy of the La Plata, and Waldorf Volunteer Fire Departments.