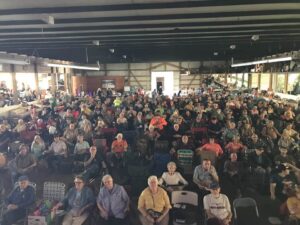 November 12, 2023, Letter to the Editor,
After a 5-year hiatus, Bluegrass for Hospice 2023 turned out to be an overwhelming success.  Better than any one year from 2009-2018 when I originally put on the event.
On Saturday October 28th at the Flat Iron Farm in Great Mills with a crowd of just under 500 attendees, $44,141.00 was given to the Hospice of St. Mary's in support of their Hospice House in Callaway, MD.
I believe my Dad, Johnny Armsworthy, who I did this in memory of, would've been proud and as he would always say, "you did too much and got too much stuff" (door prizes/silent auction).
There's been a lot of changes in 5 years. Some people have passed, health wouldn't allow some to participate as before, and some businesses couldn't offer like before because of the economy.  But there were many who attended my first Bluegrass for Hospice in 2009 and returned every year until the last one in 2018.
Although it's been 5 years, many of you returned. This was an event that brought the community out where some friends and acquaintances have not seen each other in a long time.  Bluegrass Music has a way of doing just that.  I was so glad to see the response and turnout.
I first need to thank my Mom, Lorraine and my wife, Michelle for supporting my idea of wanting to resurrect this event.  Especially to Michelle.  She made some great looking gift baskets for the silent auction, and she was there to meet and greet everyone who came through the door while I was running around like a cat on hot bricks.
Thanks to Bubby Knott for letting me use the Flat Iron Farm.  From his words when I told him I wanted to do this again, he said "Make it happen".  I knew then I had to move forward and plan.  Also, thanks to Jo Ann for getting the facility put together with all of my requests.
Thanks to Jan Barnes and the Hospice of St. Mary's Board members for volunteering and the States Attorney's Office for volunteers to assist with parking.  I want to extend an extra thanks to Jimmy & Ramona Thomas for my big surprise and the highlight of my day.  They arranged for the owner, DJ, and my boss of the radio station, The Bluegrass Jamboree, Annette Grady to come up from North Carolina to surprise me. My radio show, Bluegrass on the Bay, is carried on her station every Monday evening and I have never met her in person. I wish someone could have videoed the moment.  They said it was priceless.
As always, there are so many people and friends who helped in so many ways.  Whether it was selling raffle tickets, setting up the night before, or maybe you ran around to pick up something.  You were a big help, and made the event go smoothly.  I'm sure to miss someone, but I want to thank each of you: Barbara Clarke, Carlene Gross, Charlene Cusic, Debbie Johnson, Debra Morgan, Dunkin Donuts-Leonardtown, Frannie Woodburn, Jack Tippett and Billy Norris, Joe, Denise, and Michael Bragg, John Potts & Susanne Henderson, Kenny, Janice, Lauren, and Daniel Sebring, Martha Bailey, Mary Lou Simpkins, Michelle Gallagher, Mike "Muffin Man" Bowles, Jen, and Aiden, Mike Reid of the Southern Maryland New's, Enterprise for the great article, Pat Roache and her family who sold refreshments and baked goods in memory of her husband Vince, Printing Press of Leonardtown, Quilters by the Bay for the beautiful quilt that they made and donated, Joan & Dick Sebring for helping out with that, Sheetz-Great Mills, businesses of St. Mary's County and the Amish/Mennonite community for their generous donations, Woody and Elissa Norris, the local bands who donated their time entertaining everybody: 15 Strings, Bubby Abell & Spoon Creek, Bush Mill Band, Cuzin's N Harmony, David Norris & the Chaptico Song Works, and my band, Eastern Tradition.  There were many sponsors who had sponsored years ago and I appreciate their support for returning with me once again:   Jimmy Hayden Realtor of REMAX 100, Lexington Park Chevy, Lexington Park Ford, Metro Restaurant & Janitorial Supplies, Bob Taylor Engineering, Bushmill Band, Jan Barnes of Century 21 New Millennium, Leonardtown Collision Center, St. Mary's County Arts Council, Summer Breeze Farms, T. N. Bowes Heating & Air, Indian Bridge Kennels & Suites, Flooring Max, Guy Distributing, Winters Heating & Cooling, Hollyrock Customs, Shadow Objects, Cogito Innovations, Law Office of Daniel AM Slade, Mattingley-Gardiner Funeral Home and Cremation Services, Dorsey Law Firm, Pioneering Decisive Solutions, Eagle Systems, Kenny & Janice Sebring, FGS, Georgette Gaskin of Tastefully Simple, A & G Electric, ABC Liquors, Airtec, Bowles Operations, C & C Plumbing & Septic, Charlotte Long Homes, Community Bank of the Chesapeake, Compliance Corporation, Coombs Bus & Truck Service, Danny Miedzinski & Son, Doyle's Carpet, Dyson Building Center, Fitzgerald Realty & Auctioneers, Gracie's Guys and Gals Dance Studio, Greenfield Engineering Corporation, J. F. Taylor, Jahn Corporation, Luke M. Morgan, D.D.S. & Associates, Quality Built Homes, Rita B. Catering, Southern Maryland Electric Cooperative (SMECO), Stanley & Joan Williams, Philip C. Riehl Insurance Agent for State Farm, Take It Easy Campground, Taylor Gas, Tru Home Exteriors, W.M. Davis, Wally's Excavating, WJ Dent & Sons/Chief's Bar, and to the many other anonymous donors.
Congratulations to our $400 money winner, Alex Briscoe, and also to our $100 winner, Jay Morgan, who donated it back to Hospice.  Thank you, Jay.  Once again, thanks for a great day and we couldn't have asked for a better weather day.  I know my Dad, Jim Bailey, Margaret Ann Pruit, and Kenny Petrie were all looking down on that day.
Jay Armsworthy
Bluegrass for Hospice-Promoter