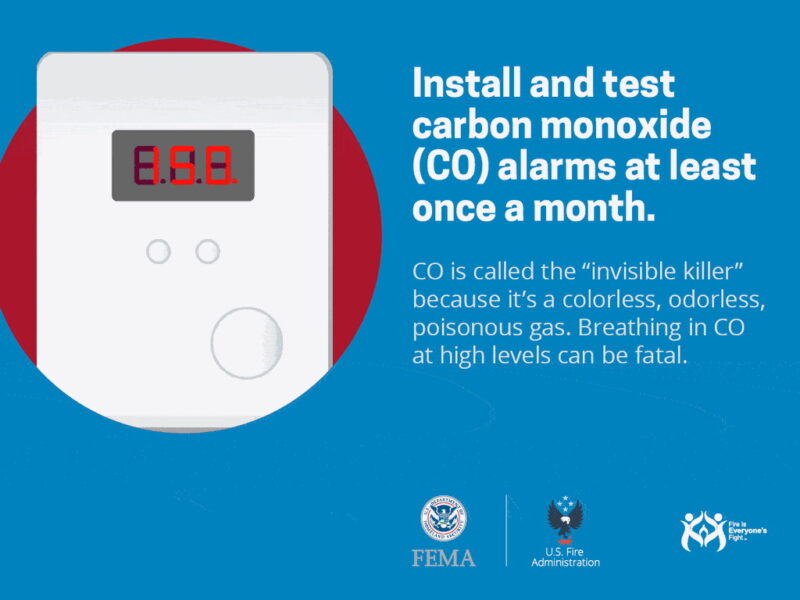 By Ridge VFD Lieutenant Scot Best, September 19, 2022.
Carbon monoxide (CO), often called "the silent killer," is an invisible, odorless, and tasteless gas created when fuels (such as kerosene, gasoline, wood, coal, natural gas, propane, oil, and methane) burn incompletely.
Carbon monoxide can result from home fuel-powered devices such as fireplaces, home and space heaters, stoves, water heaters, etc. CO can also result from fuel camping equipment, including barbecue grills, portable generators or other fuel-powered devices. Vehicles or generators running in an attached garage can also produce dangerous levels of carbon monoxide. Precautions should be taken when using fuel-burning equipment indoors and outdoors to keep your family safe from the devastating consequences of accidental carbon monoxide poisoning. The only way to detect CO is with a working CO alarm.

Safety tips:
CO alarms should be installed in a central location outside each sleeping area and on every level of the home and in other locations where required by applicable laws, codes or standards. For the best protection, interconnect all CO alarms throughout the home. When one sounds, they all sound.
Follow the manufacturer's instructions for placement and mounting height.
Choose a CO alarm that has the label of a recognized testing laboratory.
Test CO alarms at least once a month; replace them according to the manufacturer's instructions.
If the audible trouble signal sounds, check for low batteries. If the battery is low, replace it. If it still sounds, call 911.
If the CO alarm sounds, immediately move to a fresh air location outdoors or by an open window or door. Make sure everyone inside the home is accounted for. Call 911 for help from a fresh air location and stay there until emergency personnel.
If you need to warm a vehicle, remove it from the garage immediately after starting it. Do not run a vehicle or other fueled engine or motor indoors, even if garage doors are open. Make sure the exhaust pipe of a running vehicle is not covered with snow.
During and after a snowstorm, make sure vents for the dryer, furnace, stove, and fireplace are clear of snow build-up.
A generator should be used in a well-ventilated location outdoors away from windows, doors and vent openings.
Gas or charcoal grills can produce CO — only use outside.
CO Poisoning Prevention Tips for Camping:
Only use barbecue grills outside, away from all doors, windows, vents and other shelter openings. Lit or smoldering barbecue grills should never be taken inside a cabin, tent, or RV.
Never use a fuel-powered lantern, heater or portable camping stove inside a cabin, tent or camper/RV.
Use portable generators outdoors in well-ventilated areas away from all doors, windows, vents and other building openings to prevent exhaust fumes from entering.
Install and maintain CO alarms inside cabins, campers, and RVs to provide early warning of CO.
Symptoms of CO poisoning:
CO enters the body through breathing. CO poisoning can be confused with flu symptoms, food poisoning and other illnesses. Some symptoms include shortness of breath, nausea, dizziness, light headedness or headaches. High levels of CO can be fatal, causing death within minutes. Anyone who suspects they are suffering from carbon monoxide poisoning should immediately move to a fresh air location and call 911.
The concentration of CO, measured in parts per million (ppm) is a determining factor in the symptoms for an average, healthy adult.
50 ppm: No adverse effects with 8 hours of exposure.
200 ppm: Mild headache after 2-3 hours of exposure.
400 ppm: Headache and nausea after 1-2 hours of exposure.
800 ppm: Headache, nausea, and dizziness after 45 minutes; collapse and unconsciousness after 1 hour of exposure.
1,000 ppm: Loss of consciousness after 1 hour of exposure.
1,600 ppm: Headache, nausea, and dizziness after 20 minutes of exposure.
3,200 ppm: Headache, nausea, and dizziness after 5-10 minutes; collapse and unconsciousness after 30 minutes of exposure.
6,400 ppm: Headache and dizziness after 1-2 minutes; unconsciousness and danger of death after 10-15 minutes of exposure.
12,800 ppm: Immediate physiological effects, unconsciousness and danger of death after 1-3 minutes of exposure.
In 2019, First Responders in St. Mary's County saved three home occupants and a dog on Saturday, August 31, 2019. When firefighters first entered the residence, they received readings over 1,680 ppm in the house, and over 1,000 ppm in the basement.
On Sunday, February 21, at approximately 12:09 a.m., units from Prince George's County Fire/EMS Department and Montgomery County Fire & Rescue Service were dispatched to a house in the 2700 block of Hughes Road in a residential area of Adelphi for a report of multiple unconscious people. In total, 11 patients were hospitalized from the incident.
Earlier this year, on January 7, 2022, Prince George's County First Responders responded to the 14000 block of South Springfield Road in Brandywine, for an investigation.
Crews arrived on the scene and found two deceased victims and one victim unconscious.