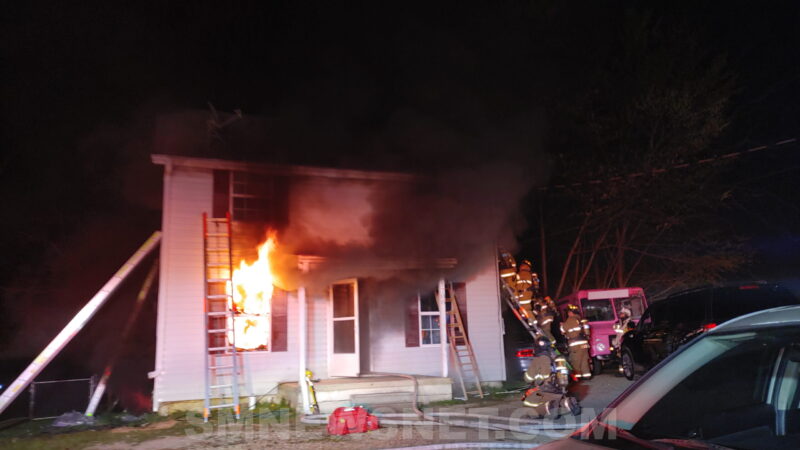 UPDATE 3/22/2023: The victims of an early Monday morning house fire in Lexington Park have been positively identified as 59-year-old Jerome Garcia Barnes and 61-year-old Mary Jacqueline Queen. According to the Office of the Chief Medical Examiner, both died due to smoke inhalation.
Deputy State Fire Marshals have concluded the fire originated within the basement. While the fire remains under investigation, they have not recovered evidence that it was an act of arson and continue to explore all possible accidental causes.
Deputy State Fire Marshals are also investigating a shed fire at a residence which belongs to related family members of this tragic incident.
At around 1:20 a.m. on Monday, an occupant awoke to smoke and discovered a fire within the basement. The person who discovered the fire and two others escaped the two-story home.
Upon the arrival of firefighters, they were told two people were still trapped inside the home. They immediately located Barnes and Queen on the second floor. Investigators learned the home was being rented, and everyone within the home was related.
It took 40 firefighters from the Bay District Volunteer Fire Department and surrounding departments to control the two-alarm blaze.
The Office of the State Fire Marshals continues to work in collaboration with the St. Mary's County Sheriff's Office, which is a standard operating procedure whenever a fatal fire occurs.
This double fire fatality comes on the heels of three children tragically losing their lives in a Baltimore City fire last Saturday. The Office of the State Fire Marshal requests all Marylanders to remain vigilant in maintaining smoke alarms in their homes.
"Within the first three months of the new year, we're seeing an uptick in tragedies associated with home fires across Maryland," said State Fire Marshal Brian S. Geraci, "We need families to be aware of the fire hazards in their homes and put into practice, some straightforward safety tips.
First and foremost, test your smoke alarms; this single device is the most effective tool in preventing injury or death.
Make a plan. Please come together as a family and make a home escape plan so you all know what to do in an emergency. Please move to your family's safe spot when the smoke and CO alarms sound. Remember to get out and stay out and dial 911 from a safe location." stated Geraci

UPDATE @ 8:00 a.m
., State Fire Marshal released the following information. "State Fire Marshals are on the scene of an overnight fire investigation in Lexington Park involving two deaths.
Bay District Volunteer Fire Department and surrounding departments responded to a call for a house fire in the 21700 block of Cabot Place. Two adult victims were later discovered inside.
The victims, identified as a male in his late 50s and a female in her early 60s.
The victims were transported to the Office of the Chief Medical Examiner in Baltimore to determine the exact cause of death and where they will be positively identified.
Deputy State Fire Marshals remain on the scene and have confirmed the fire originated within the basement. St. Mary's Metropolitan Commission, the local water and sanitary department, is assisting with removing several feet of water, so investigators can safely enter the home and begin investigating the cause.
A joint investigation between the police agency having jurisdiction and the Office of the State Fire Marshal is standard operating procedure whenever a fatal fire occurs.
More information will be released as it becomes available."
3/20/2023: On Monday, March 20, 2023, at approximately 1:19 a.m., firefighters from Bay District, NAS Patuxent River, Valley Lee, and Hollywood responded to 21708 Cabot Place in Lexington Park, for the reported house on fire with multiple victims trapped.
Firefighters arrived on the scene to find a two-story residence with smoke showing from the first and second floor.
Crews from Bay District along with NAS Patuxent River deployed multiple hose lines and ladders and started to conduct fire suppression and searches of the residence.
Firefighters located fire throughout the entire basement with extensions into the first floor with high heat, low visibility and hoarding conditions. While teams searched the residence, firefighters located one unconscious victims on the second floor.
A second alarm was sounded at 1:35 a.m., which alerted firefighters from Hollywood, Valley Lee, Leonardtown, Mechanicsville, Solomons, St. Leonard and Ridge.
One victim was removed from the second story window where emergency medical personnel rendered life saving measures and transported the victim to an area hospital with CPR in progress and life-threatening injuries.
The second victim was located in an upstairs bedroom and removed from the residence where they later were pronounced deceased on the scene.
Multiple firefighters suffered injuries and burns, however, none were transported by ems.
The St. Mary's County Sheriff's Office, Maryland State Police and Office of The Maryland State Fire Marshal responded to assist. The cause of the fire is under investigation.
Updates will be provided when they become available.